The Drum iceland Page 5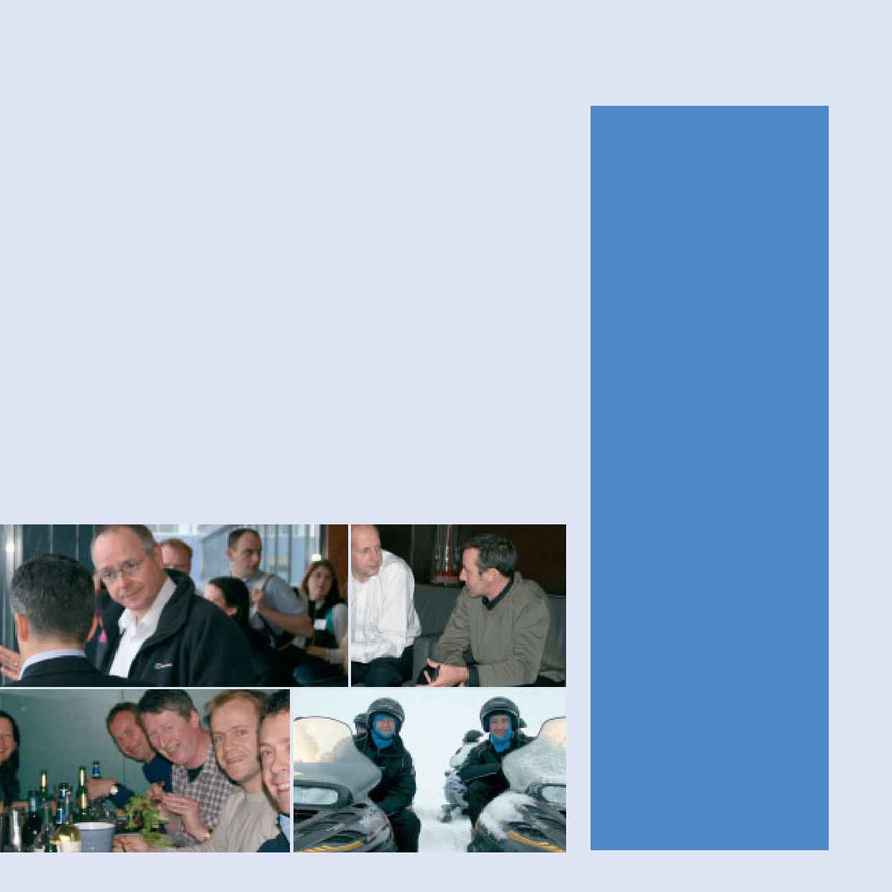 04
E FORMS FOR NEXTYEAR.
WAS JUST RIGHT."
TIMETABLE
Tuesday 22 November
Check-in at Glasgow airport
1245 Coach transfer to Blue Lagoon
Leisure time at Blue Lagoon
Coach transfer to Reykjavik
Walk into Reykjavik for dinner
Wednesday 23 November
Transfer to conference venue
Speakers & business meetings
Business meetings and
workshops
Dinner at The Pearl restaurant
Thursday 24 November
0730
Jeep Safari to glaciers,
waterfalls, geysers with
adventure activities
Hunt for the Northern Lights
Friday 25 November
1030
note: timetable may be subject to change
THE FUN BIT...
The Iceland Forum 2005 is definitely a
business trip. But, take it from us, the
Icelanders ­ descended from Vikings,
remember ­ certainly believe in combining
business with pleasure. So, when you're not
immersed in discussions with potential
suppliers, you can look forward to a lot of fun.
Your base will be in the very heart of Reykjavik.
Once you've arrived, you'll be taken directly to
the Blue Lagoon geothermal spa ­ one of
Iceland's great attractions. There we will have
lunch and gently ease into our first conference.
Later, you can bathe outdoors in the lagoon,
try a revitalising waterfall massage, pop into a
lava cave steam bath, or go for a sauna and
silica mud skin treatment. Whatever you
choose, by the end of the afternoon you can
be sure you'll be totally chilled.
The second day includes free time to
explore Reykjavik at your leisure. During the
day, you will be dining at two of Reykjavik's
finest and most renowned restaurants ­ the
unbelievably cool Apotek Grill and The Pearl
revolving restaurant, one of Reykjavik's most
The final day of your visit is going to be
very busy. You start with a thrilling journey by
jeep to a glacier, a volcanic geyser and the
Gullfoss ­ which translates as "Golden
Waterfall". Absolutely unmissable. After
seeing the sights, you'll get even closer to the
spirit of Iceland with some adventure activities
that you'll never want to forget. The day
closes with a relaxed and cosy meal in one of
Iceland's many seafood restaurants. Weather
permitting, the day ends with a hunt in search
of the awe-inspiring Northern Lights.
You will have worked hard. You will have
played hard too. And the whole experience
will be one that is rewarding in so many