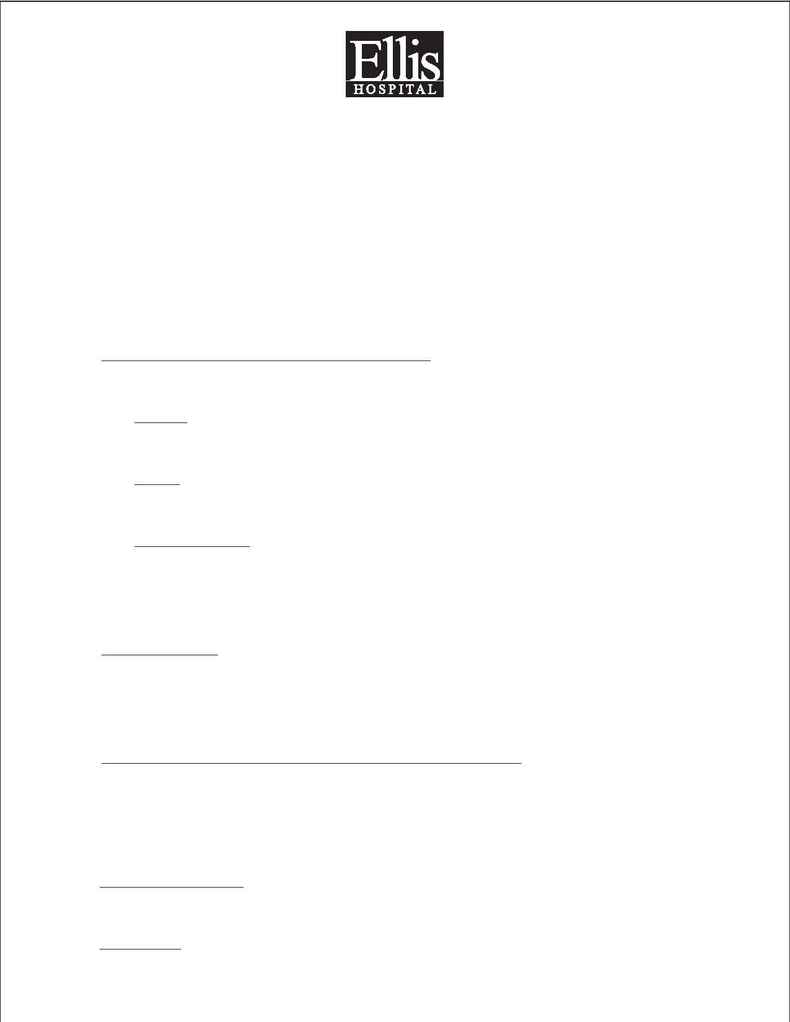 Thank you for choosing Ellis Hospital for your healthcare needs. We are privileged to have your confidence and are
committed to safeguarding the personal information that you give/have given us. This notice will explain our policy of
collecting, handling, using and securing individually identifiable patient information as required by the Health
Insurance Portability and Accountability Act of 1996 ("HIPAA").
I. PERMITTED USES AND DISCLOSURES OF HEALTH INFORMATION
A. TREATMENT, PAYMENT, HEALTHCARE OPERATIONS: You should be aware that during the course of our
relationship with you that we likely will use and disclose health information about you for treatment, payment and
healthcare operations. Examples of these activities are as follows:
Treatment: Your confidential healthcare information may be released to other
healthcare professionals for the purpose of providing you with quality
healthcare.
Payment: Your confidential healthcare information may be released to your
insurance provider for the purpose of the hospital receiving payment for
providing you with needed healthcare services.
Healthcare Operations: Your confidential healthcare information may be
disclosed in connection with our healthcare operations. Healthcare
operations include quality assessment and improvement activities, our
review of the ability or qualifications of our healthcare professionals,
evaluating practitioner and provider performance and other Ellis business
operations.
B. AUTHORIZATIONS: You may specifically authorize us to use your health information for any purpose or to
disclose your health information to anyone. We will do so upon our receipt of a written authorization from you stating
that we may use or disclose you health information in agreement with that authorization. You may cancel any such
authorization at any time by notifying us in writing. This cancellation will not affect any use or disclosures permitted
by your authorization while it was in effect. Unless you give us a written authorization, we cannot use or disclose your
health information for any reason except those permitted by this Notice or as otherwise permitted by law.
C. DISCLOSURES TO FAMILY AND PERSONAL REPRESENTATIVES: We must disclose your health
information to you as described below in the Patient Rights section of this Notice. Note that such disclosures will be
made to any of your personal representatives (parent, child, husband or wife, etc.) appropriately authorized by you to
provide them access and/or control of your health information. Under certain circumstances, including emergency
treatment, we may disclose your location and general condition to a family member, other relative, close personal
friend or any other person who you identify. We also may disclose health information related to such an individual's
involvement in your care or with payment related to your care.
D. HOSPITAL DIRECTORY: If you do not object, we will include your name, location in our facility, your general
condition (e.g. fair, stable, critical, etc.), and your religious affiliation in our hospital directory while you are in the
hospital.
E. MARKETING: We will not use your health information for marketing communications without your written
authorization. We will not sell your health information to anyone.
NOTICE OF PRIVACY PRACTICES
_________________________________
THIS NOTICE DESCRIBES HOW HEALTH INFORMATION ABOUT YOU MAY BE USED AND
DISCLOSED AND HOW YOU CAN GET ACCESS TO THIS INFORMATION.
PLEASE REVIEW IT CAREFULLY.