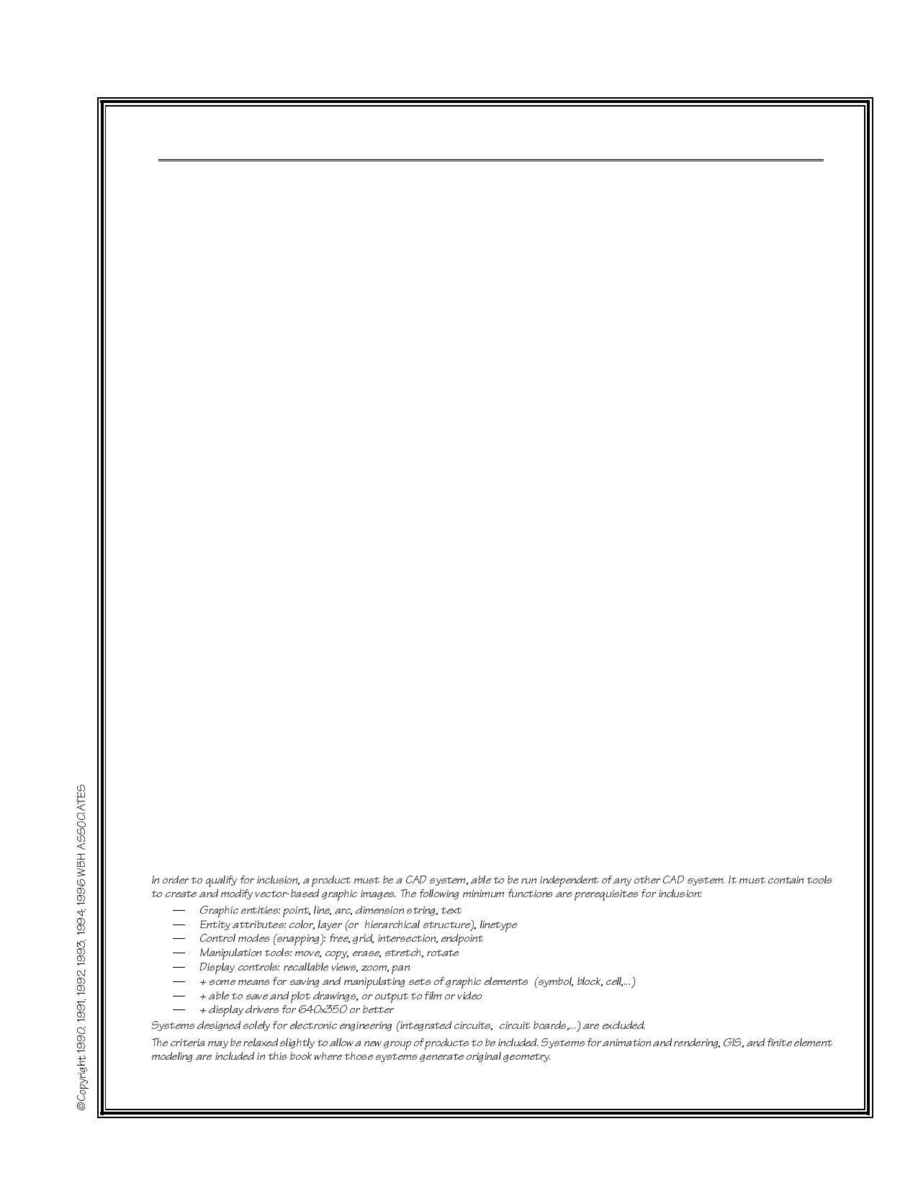 To All Vendors of CAD, GIS, FEM, & Animation Systems
WBH Associates is preparing an expanded fifth edition of
The CAD Rating Guide. The CAD Rating Guide
is a tool for evaluating CAD systems, and contains information on almost all CAD systems on the market
today. It also includes Geographic Information Systems, Finite Element Modelers, and Animation
systems where these systems create their own geometry. (Printed-circuit board and integrated circuit
design systems are not included.) This survey is the basis of a large portion of your entry in the book. A
limited number of copies of the fourth edition are available for your review.
The fifth edition will contain approximately 180 CAD systems, including yours. Your participation is
required to assure proper representation. There is no cost involved--just the time necessary to fill out
the survey form. WBH will do its utmost to maintain the validity and quality of information presented.
Please be as thorough as possible in your answers. An electronic version of this form can be made available
on request.
An important part of your presentation in
The CAD Rating Guide is the section based on the USER
SURVEY included along with this form. Please be sure to reproduce the enclosed USER SURVEY form
right away and get it in the hands of as many of your best users as possible so that you can have a
strong showing in the book. Distributing the USER SURVEY to your users groups is also strongly
recommended.
We must have the forms back immediately in order to be assured of being included in the next edition.
The cutoff date for software versions is as follows: any version that will ship on or before January 1, 1997
will be allowed. In special cases, software versions that are to be announced by that date will also be
allowed. We must have this form completed and in our possession by June 1, 1996. If you require a
temporary non-disclosure agreement in order to disclose advance information, that can be arranged.
Any information received late cannot be guaranteed inclusion in the fifth edition, but will be considered
for future editions if inclusion is not possible.
If you have questions about the book, this survey, or the process please call me at 301-365-5262. You
can also reach me via email at 74777.3073@compuserve.com or by fax at 301-365-4586. Thank you
for your cooperation.
W. Bradley Holtz, AIA
Principal, WBH Associates
In order to qualify for inclusion, a product must be a CAD system, able to be run independent of any other CAD system. It must contain tools
to create and modify vector-based graphic images. The following minimum functions are prerequisites for inclusion:
Graphic entities: point, line, arc, dimension string, text
Entity attributes: color, layer (or hierarchical structure), linetype
Control modes (snapping): free, grid, intersection, endpoint
Manipulation tools: move, copy, erase, stretch, rotate
Display controls: recallable views, zoom, pan
+ some means for saving and manipulating sets of graphic elements (symbol, block, cell,...)
+ able to save and plot drawings, or output to film or video
+ display drivers for 640x350 or better
Systems designed solely for electronic engineering (integrated circuits, circuit boards,...) are excluded.
The criteria may be relaxed slightly to allow a new group of products to be included. Systems for animation and rendering, GIS, and finite element
modeling are included in this book where those systems generate original geometry.
1
9
9
0
,
19
,
199
2
,
199
1
9
9
6
B
H
The CAD Rating Guide
Page 1
Vendor Survey for the Fifth Edition
April 1996
WBH Associates
8220 Stone Trail Drive
301-365-5262 / 301-365-4586 fax
Bethesda, MD 20817-4556
74777.3073@compuserve.com