Computer Graphics World crg 5 v Page 9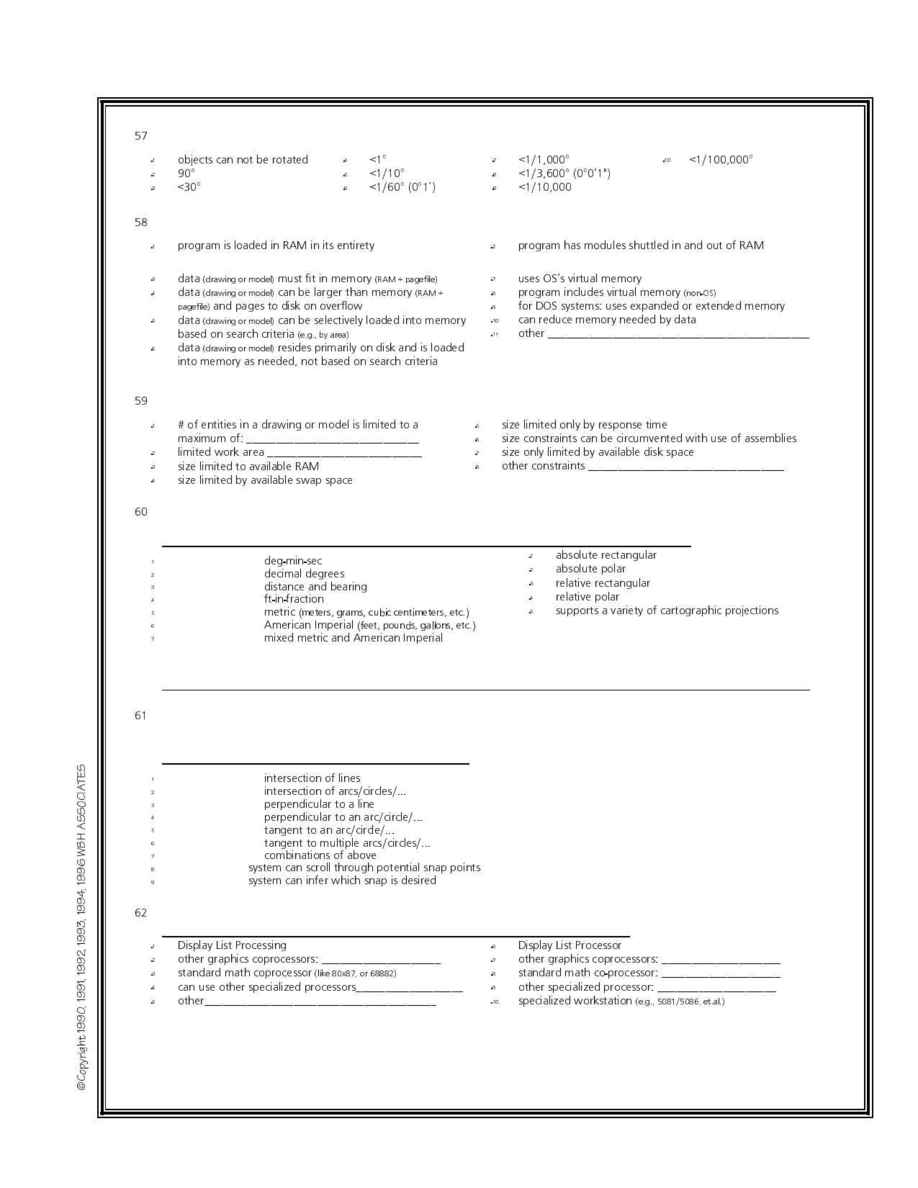 What is the smallest amount of rotation permitted?
How is RAM allocated between the program and the drawing data?
The drawing/model size is limited by:
What measuring units can data be entered in? What units can data be stored in?
TOOLS
Which of the following can be selected or toggled as a
snap mode
, and which must be
specified every time it is needed?
Does the system take advantage of specialized processors?
objects can not be rotated
program is loaded in RAM in its entirety
program has modules shuttled in and out of RAM
can be larger than memory
and pages to disk on overflow
can be selectively loaded into memory
resides primarily on disk and is loaded
into memory as needed, not based on search criteria
program includes virtual memory
for DOS systems: uses expanded or extended memory
can reduce memory needed by data
other ____________________________________________
# of entities in a drawing or model is limited to a
maximum of: _____________________________
limited work area __________________________
size limited to available RAM
size limited by available swap space
size limited only by response time
size constraints can be circumvented with use of assemblies
size only limited by available disk space
other constraints _________________________________
mode
for each point, must be specified every time
intersection of arcs/circles/...
perpendicular to an arc/circle/...
tangent to an arc/circle/...
tangent to multiple arcs/circles/...
system can scroll through potential snap points
system can infer which snap is desired
Can use
Requires
other graphics coprocessors: ____________________
standard math coprocessor
can use other specialized processors__________________
other_______________________________________
other graphics coprocessors: ____________________
standard math co-processor: ____________________
other specialized processor: ____________________
(e.g., 5081/5086, et.al.)
Data Entry
Stored
Coordinate Systems
(meters, grams, cubic centimeters, etc.)
(feet, pounds, gallons, etc.)
mixed metric and American Imperial
supports a variety of cartographic projections
1
990
,
1
991
,
1
9
9
2
,
19
,
199
The CAD Rating Guide
Page 9
Vendor Survey for the Fifth Edition
April 1996
WBH Associates
8220 Stone Trail Drive
301-365-5262 / 301-365-4586 fax
Bethesda, MD 20817-4556
74777.3073@compuserve.com