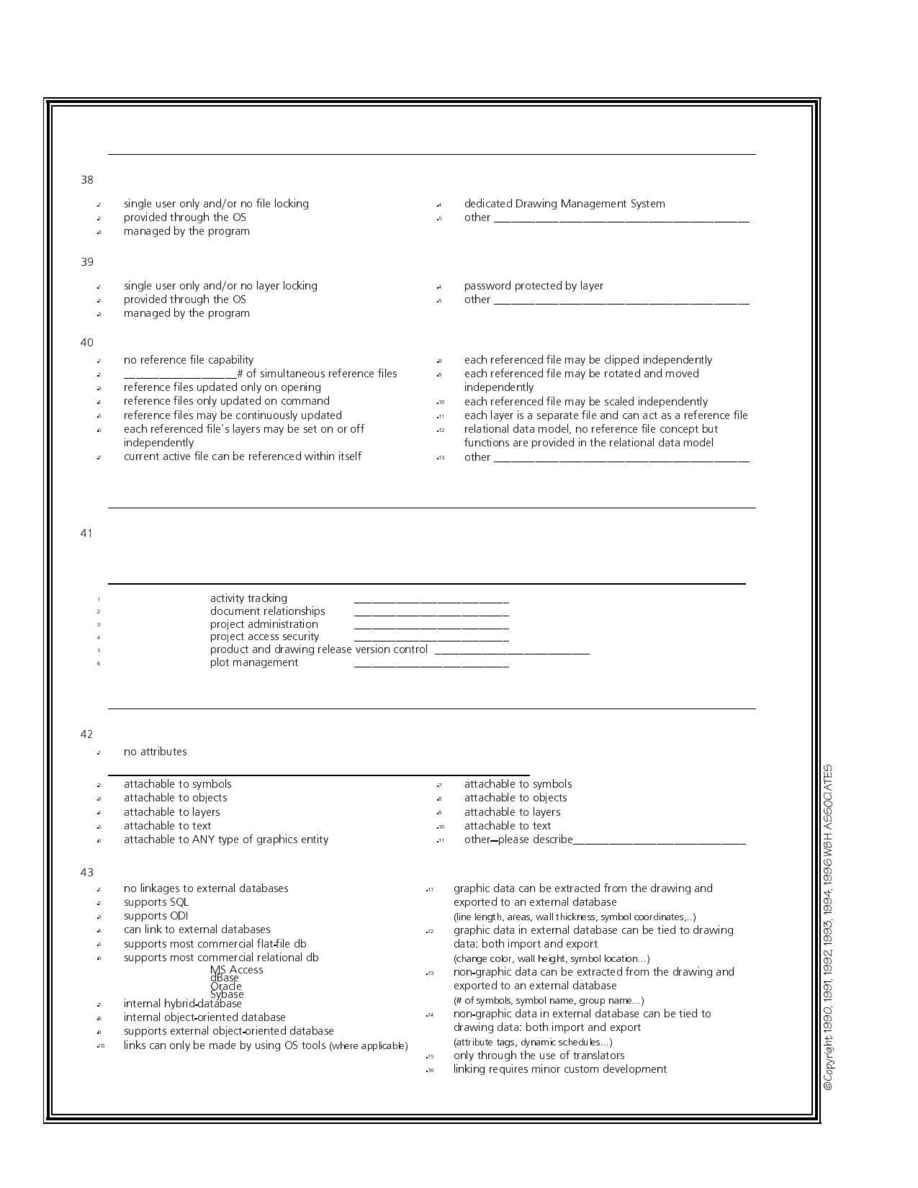 MANAGING WORK GROUPS
File Locking (read/write restrictions to file access):
Layer/Level Locking (read/write restrictions within a single file):
Reference File Capability (simultaneously active, read-only files):
MODEL AND DRAWING MANAGEMENT SYSTEM (MDMS)
Is a Model and Drawing Management System included? If an MDMS is not included, is one
available that works with your system?
(MDMSs are also referred to as Product Data Managers --PDMs, or
Engineering Document Management Systems--EDMS.)
DATABASE MANAGEMENT SYSTEM
How are graphic and non-graphic attributes implemented?
What linkage exists to non-graphic databases? (external to the CAD database)
single user only and/or no file locking
dedicated Drawing Management System
other ___________________________________________
single user only and/or no layer locking
password protected by layer
other ___________________________________________
no reference file capability
___________________# of simultaneous reference files
reference files updated only on opening
reference files only updated on command
reference files may be continuously updated
each referenced files layers may be set on or off
current active file can be referenced within itself
each referenced file may be clipped independently
each referenced file may be rotated and moved
each referenced file may be scaled independently
each layer is a separate file and can act as a reference file
relational data model, no reference file concept but
functions are provided in the relational data model
other ___________________________________________
Included
Available
Name
__________________________
__________________________
__________________________
__________________________
product and drawing release version control __________________________
__________________________
Graphic Attributes
Non-Graphic Attributes
attachable to ANY type of graphics entity
otherplease describe_____________________________
no linkages to external databases
can link to external databases
supports most commercial flat-file db
supports most commercial relational db
internal object-oriented database
supports external object-oriented database
links can only be made by using OS tools
graphic data can be extracted from the drawing and
exported to an external database
(line length, areas, wall thickness, symbol coordinates,..)
graphic data in external database can be tied to drawing
data: both import and export
(change color, wall height, symbol location...)
non-graphic data can be extracted from the drawing and
exported to an external database
(# of symbols, symbol name, group name...)
non-graphic data in external database can be tied to
drawing data: both import and export
(attribute tags, dynamic schedules...)
only through the use of translators
linking requires minor custom development
1
990
,
1
991
,
1
9
9
2
,
19
,
199
Page 6
The CAD Rating Guide
April 1996
Vendor Survey for the Fifth Edition
WBH Associates
8220 Stone Trail Drive
301-365-5262 / 301-365-4586 fax
Bethesda, MD 20817-4556
74777.3073@compuserve.com