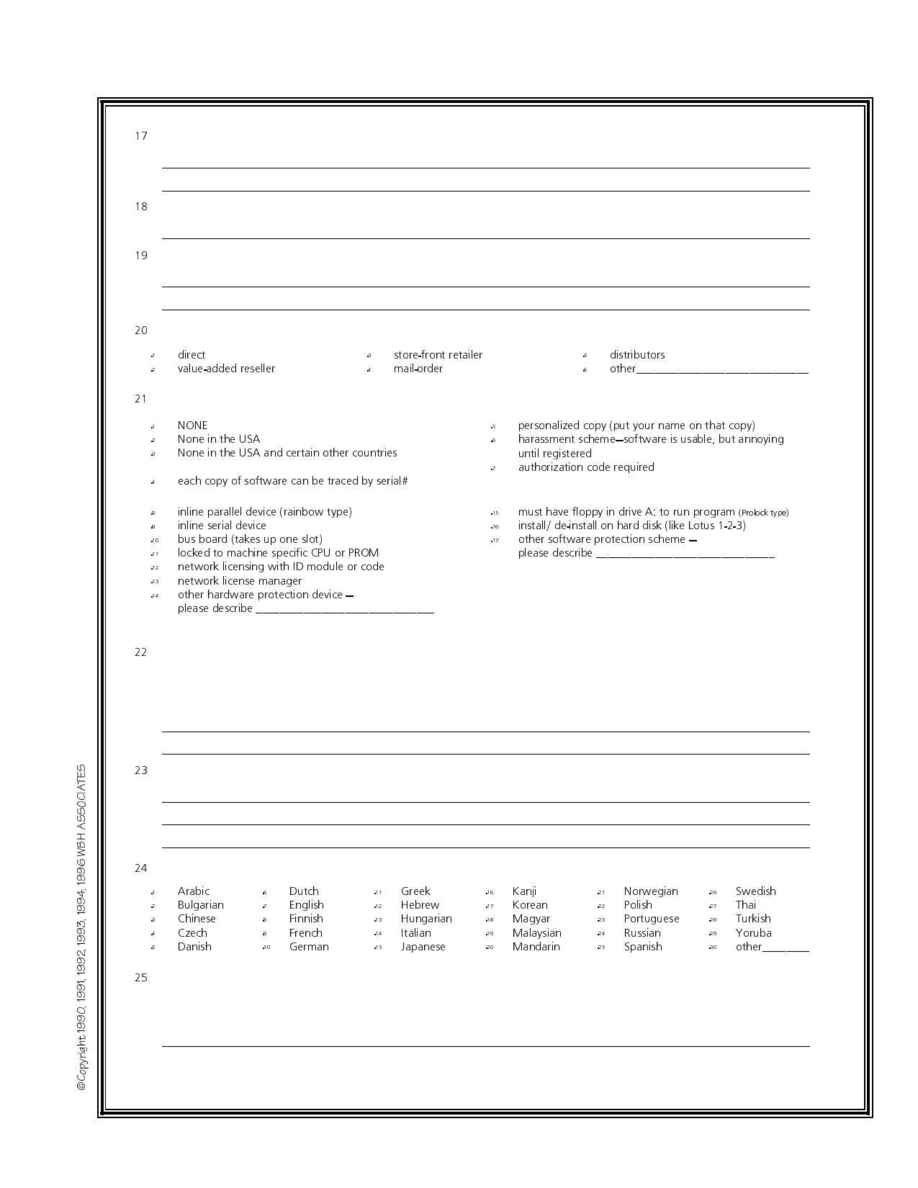 If the price does include bundled hardware, describe the bundled system:
Entry level price
(base price of core or least-expensive configuration)
:
Other available options w/prices--also list any support fees
(you may attach a price sheet if you prefer)
:
How is the software sold?
What copy-protection mechanisms do you use?
Are there any special or unusual requirements for the system, or requirements that might
otherwise be unanticipated?
(examples: 610K available RAM; 64M system RAM when the norm for that system is 16M; 600M disk swap space; 5081
services; special power source...)
What are the primary application areas for this system?
In what languages is the system available?
Does this product meet the requirements for inclusion as outlined in the cover letter?
[ ] No, for the following reason:
other_____________________________
None in the USA and certain other countries
each copy of software can be traced by serial#
personalized copy (put your name on that copy)
harassment schemesoftware is usable, but annoying
authorization code required
Hardware Copy Protection Scheme
inline parallel device (rainbow type)
bus board (takes up one slot)
locked to machine specific CPU or PROM
network licensing with ID module or code
other hardware protection device
please describe ______________________________
Software Copy Protection Scheme
must have floppy in drive A: to run program
install/ de-install on hard disk (like Lotus 1-2-3)
other software protection scheme
please describe ______________________________
1
990
,
1
991
,
1
9
9
2
,
19
,
199
The CAD Rating Guide
Page 3
Vendor Survey for the Fifth Edition
April 1996
WBH Associates
8220 Stone Trail Drive
301-365-5262 / 301-365-4586 fax
Bethesda, MD 20817-4556
74777.3073@compuserve.com