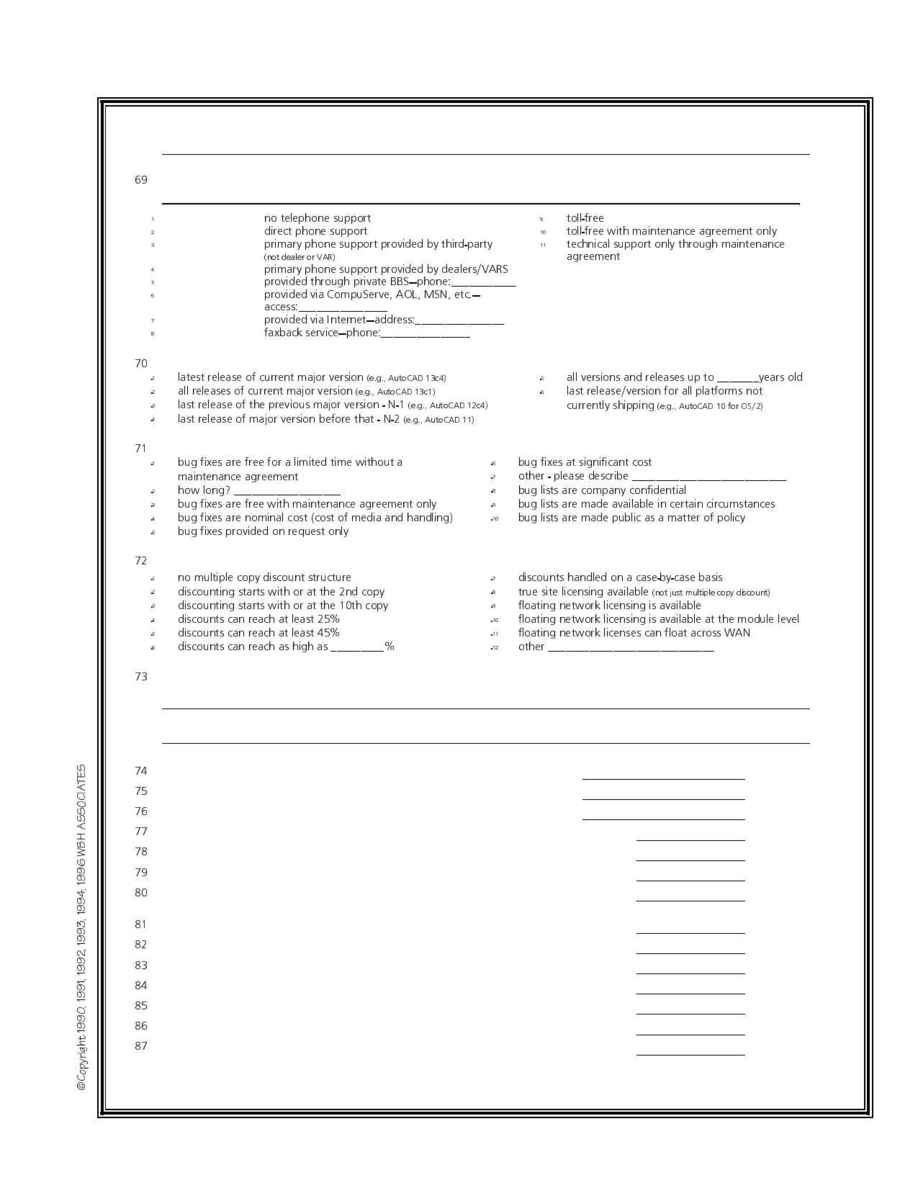 COMPANY POLICY:
How is technical support provided?
How long are historical versions of the software supported?
What is your policy towards bug fixes and bug lists?
What sort of site licensing or discount structure do you have?
Please describe your discount structure.
(# of copies, % discount)
CORPORATE DATA:
When was the first version of this program first shipped?
When did/does this current version of this program ship?
When do you expect the following version or release to ship?
When was the current version of this first announced?
What year did the company start in CAD?
Is this firm publicly held?
(if yes, enclose copies of your 10Qs or equivalent)
# of quarters the firm has been profitable, Q1'92 through Q4'95
(you may show the trend if you wish)
Total # of employees, company-wide?
# of employees for this product?
# of employees company-wide in direct sales (not marketing)?
Total annual sales of the whole company in 1995?
R&D expenditures as a percentage of annual sales (company-wide)?
Total sales for this product in 1995?
# of employees hired in the last 18 months?
Free
Paid
Features
primary phone support provided by third-party
primary phone support provided by dealers/VARS
provided through private BBSphone:___________
provided via CompuServe, AOL, MSN, etc.
provided via Internetaddress:_______________
faxback servicephone:_______________
toll-free with maintenance agreement only
technical support only through maintenance
latest release of current major version
all releases of current major version
last release of the previous major version - N-1
last release of major version before that - N-2
all versions and releases up to _______years old
last release/version for all platforms not
(e.g., AutoCAD 10 for OS/2)
bug fixes are free for a limited time without a
how long? __________________
bug fixes are free with maintenance agreement only
bug fixes are nominal cost (cost of media and handling)
bug fixes provided on request only
bug fixes at significant cost
other - please describe __________________________
bug lists are company confidential
bug lists are made available in certain circumstances
bug lists are made public as a matter of policy
no multiple copy discount structure
discounting starts with or at the 2nd copy
discounting starts with or at the 10th copy
discounts can reach at least 25%
discounts can reach at least 45%
discounts can reach as high as _________%
discounts handled on a case-by-case basis
true site licensing available
(not just multiple copy discount)
floating network licensing is available
floating network licensing is available at the module level
floating network licenses can float across WAN
other ____________________________
1
990
,
1
991
,
1
9
9
2
,
19
,
199
The CAD Rating Guide
Page 11
Vendor Survey for the Fifth Edition
April 1996
WBH Associates
8220 Stone Trail Drive
301-365-5262 / 301-365-4586 fax
Bethesda, MD 20817-4556
74777.3073@compuserve.com