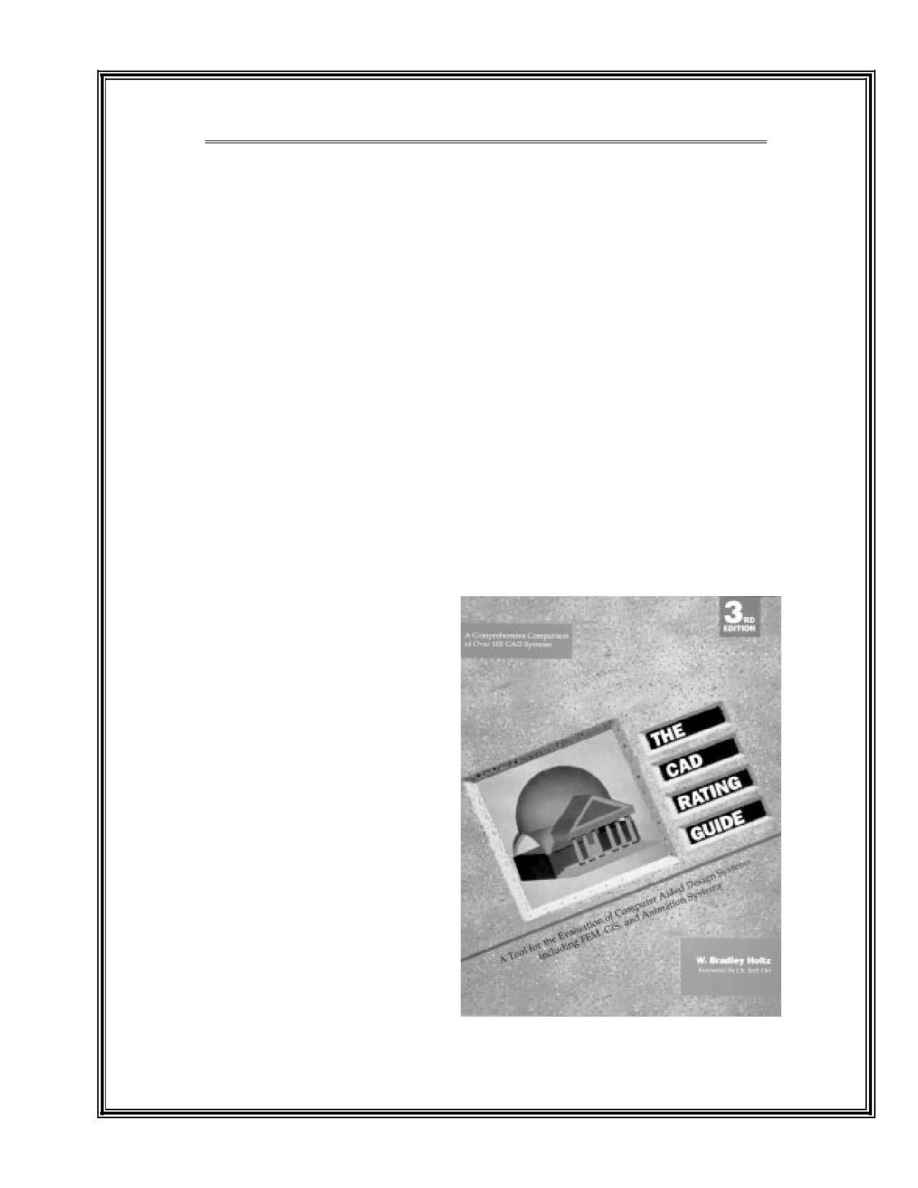 THE CAD RATING GUIDE USER SURVEY
To All CAD Users
WBH Associates is preparing the fifth edition of
The CAD Rating Guide. The CAD Rating
Guide is a tool for evaluating CAD systems, and contains information on almost all CAD
systems on the market today. GIS, FEM, and Animation systems are also included.
(Printed-circuit board and integrated circuit design systems are not included.)
basis of one of the most significant parts of the book--user's comments about their
CAD systems.
Your participation in the user interview will contribute greatly to the validity and quality
of information presented. In exchange for your participation,
all users who complete
the form will be given a $10 discount on the book
(if purchased directly through WBH
. Please be as thorough as possible in your answers. Please be sure to
indicate your preference regarding the inclusion of your name and your firm's with your
comments. If you would like your name or your firm's name withheld, be sure to check
the appropriate box on questions #1 and 2.
If you are using more than one type of CAD system, please copy this form and fill out
one copy of the form for each system. Where versions of the software for different
platforms vary significantly in one or more areas, complete separate forms for each
version. We must have the forms back as soon as possible in order to be assured of
being included in the next edition. Any information received after that date will be
considered for supplements to the book.
Please copy and distribute this survey
to other appropriate individuals/firms.
Thi s survey is also available on
CompuServe in the CAD Vendors'
forum
You may email your survey to
74777.3073@compuserve.com
If you have questions about the survey
or the process please call me or my
office, at 301-365-5262 or fax to
301-365-4586. Thank you for your
cooperation.
W. Bradley Holtz, AIA
Principal
1
990,
1
991
,
1
992,
1
994,
c
iates
The CAD Rating Guide: Fifth Edition
March 1996
Page 1
WBH Associates
8220 Stone Trail Drive
301-365-5262 / 301-365-4586 fax
Bethesda MD 20817-4556
74777.3073@compuserve.com