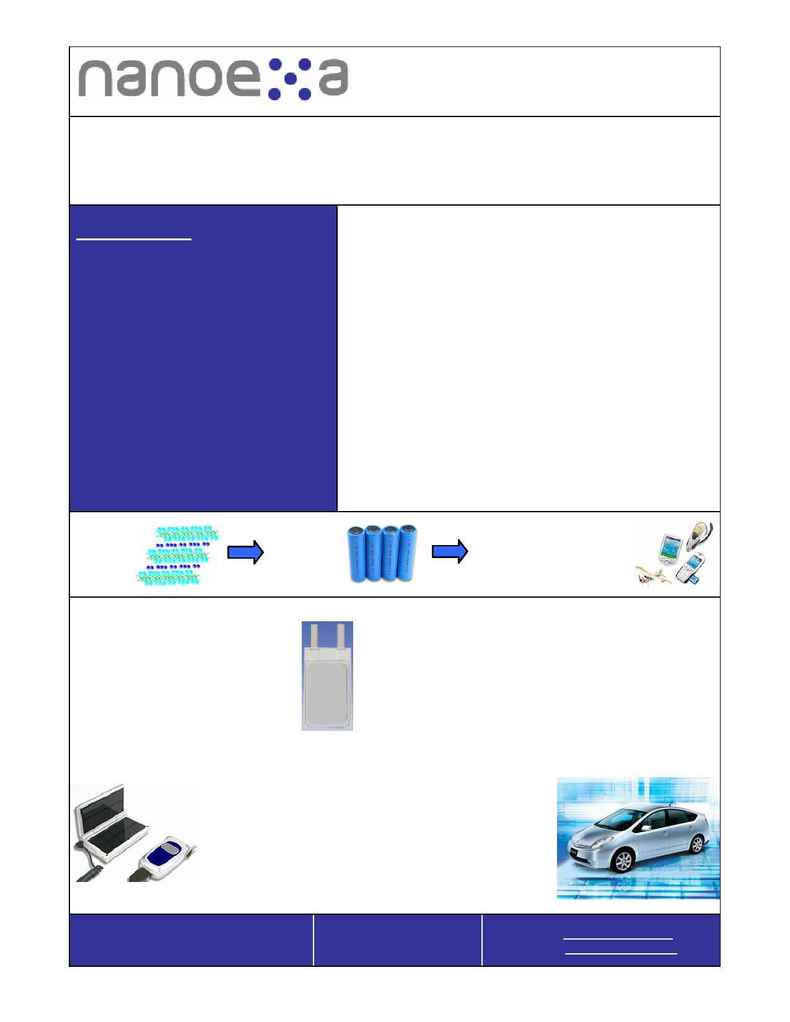 Revolutionizing Nanomaterial Design
for Cleantech ApplicationsTM
Not since the industrial revolution has a time been so ripe with opportunity for dramatic and
positive socioeconomic change. Nanoexa will use Nanotechnology and Computational
Modeling as the tools to improve the way the world depends on energy sources.

Company Profile
Founded: 2005
CEO: Michael Pak
Subsidiary: Decktron (KOSDAQ: 053070)
Nanotechnology platform: Material design
and synthesis
Products: Advanced lithium ion and lithium
polymer batteries; portable solar charger;
LCD and PDP TVs
Market Focus: Advanced batteries, solar
cells, and displays
Application Focus: Portable Electronics,
Power Tools, Electric Vehicles and HEVs
Employees: ~140 (incl. subsidiary)
Overview
Nanoexa is a nanotechnology based clean energy company.
Our mission is to create new end-to-end business units that
utilize computational modeling innovation to dramatically
improve material performance in clean energy products such as
solar cells and lithium ion batteries. Nanoexa's breakthrough
platform technology offers a rapid and powerful way to design
and validate material design from the quantum level, shortening
product development time and reducing costs.
Each business unit will not only develop novel materials, but
also manufacture products based on those materials. In order to
accelerate the commercialization of its novel lithium batteries,
Nanoexa has acquired a public company, Decktron, and has
partnered with Argonne National Laboratory. Argonne has an
extensive lithium battery IP portfolio and is active in the U.S.
FreedomCar program.
Battery Business Unit
Nanoexa's battery business unit,
supported
batteries for numerous applications
including Bluetooth devices, PDAs,
mobile phones, RC devices and
RFID tags to leading companies in the electronics
industry.
The business unit also
sells a
applications. All products
are
throughput, modern facilities in Asia.
Focus on Enabling New Markets
Nanoexa recognizes the need for alternatives to
gasoline powered transportation. Increased oil prices
and increased pollution are contributing to consumer
frustration with numerous modes of transportation and
driving the exponential demand for HEV automobiles.
But current HEV batteries do not deliver sufficient
levels of performance. Nanoexa is developing safe
lithium ion batteries with high power and energy that
will truly enable the HEV and EV market.
penetration of the lithium
ion
Nanoexa will accelerate
the development of solar
cells
863 Mitten Road, Suite 102
T: 650-204-6000
F: 650-204-6007
Design Product Enabled Application