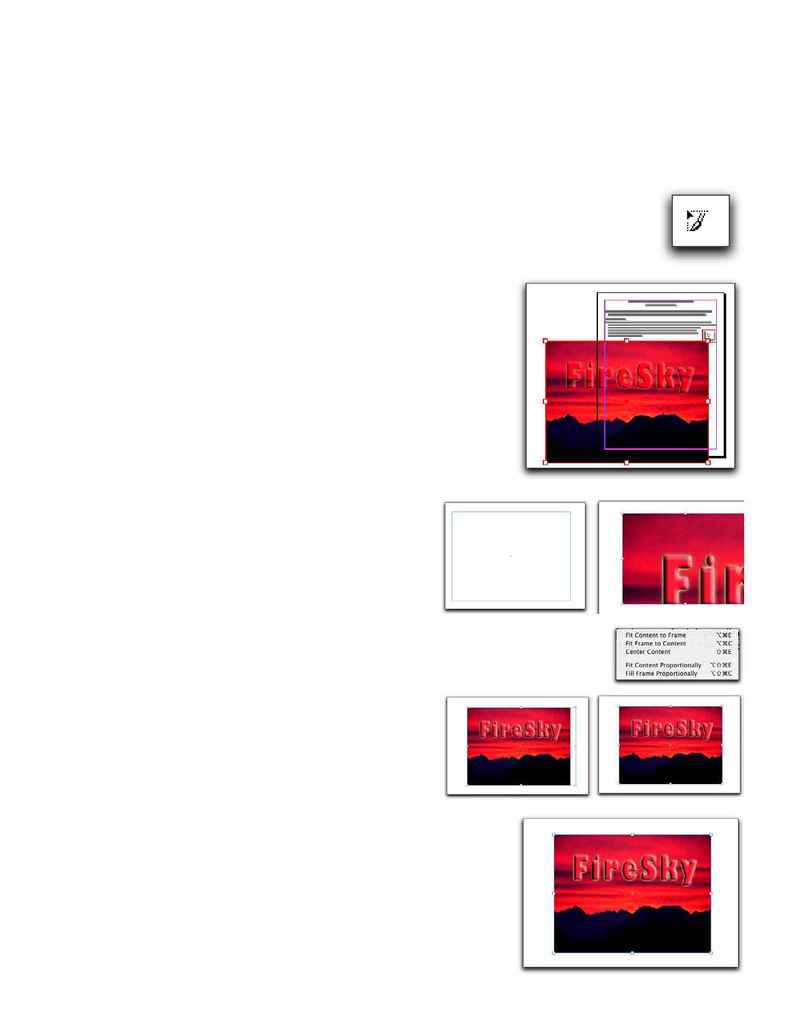 Managing iMages in inDesign
Part i
taz tally May 2006
Knowing a few shortcuts and keeping track of which tool you are
using will help you work faster and easier in InDesign
Placing Images
The fastest way to place an image in an InDesign page is to use the keyboard shortcut cmd + D,
instead of File > Place. What happens next depends first upon what if anything is currently
selected on your page, which tool is active, and what you do with the place command sym-
bol that appears... so it pays to have a plan. Let's assume the simplest
case ... you have nothing selected on your InDesign document page.
Once you activate the place command a small place brush appears.
Click to Place
If you simply click on the page with this place brush, your graphic will
be placed by default at 100% size, establishing where you click as the
upper left corner of the image. This may be OK if the dimensions of
your image is not too large, but may be a rude awakening if you are
placing a 24" x 26" digital camera image whose output dimensions
you have not yet resized in Photoshop Image Size dialog! This often
leads to frustrating time wasted resizing the images. And depending
upon which tool you have selected, this circumstance may lead to
even further frustration ... more on tools below.
Click and Drag to Place
Often a better approach is to click and drag to create a pre-
sized graphic frame and then use some keyboard short-
cuts and your selection tools to control your final image
size and placement. Here is a typical effective sequence:
step one: Click and drag to create a graphics frame. A por-
tion of the image you are placing will appear inside of
that presized graphic frame.
Now is when knowing a couple of keyboard shortcuts comes in handy. With your
graphic object selected, activate your Selection tool (V), the left side selection tool.
Now select Object > Fitting to view the Fitting choices.
You will see five Fitting options with a series of some-
what confusing keyboard short sequences. Focus on
and learn two of these: Cmd + Opt + Shift + E for Fit
"Everything" proportionally in the current window, and
Cmd + Opt + C = Fit Frame to "Contents". Then use them
as follows:
Step two: Type Cmd + Opt + Shift + E to proportionally fit
(without distortion) the image in the current frame.
Step three: Type Cmd + Opt + C to fit the Frame around the image.
These step two and three keyboard shortcuts can be performed in rapid
succession ... see how fast you can do it ... if you use two hands to
apply your keyboard shortcuts (right hand on the control keys and
left for the alpha keys, E and C) you can perform both of these in less
than one second ... try it!
step four: Now with the Selection tool still active press the Cmd + Shift
and then click and drag one of the corners of your image to propor-