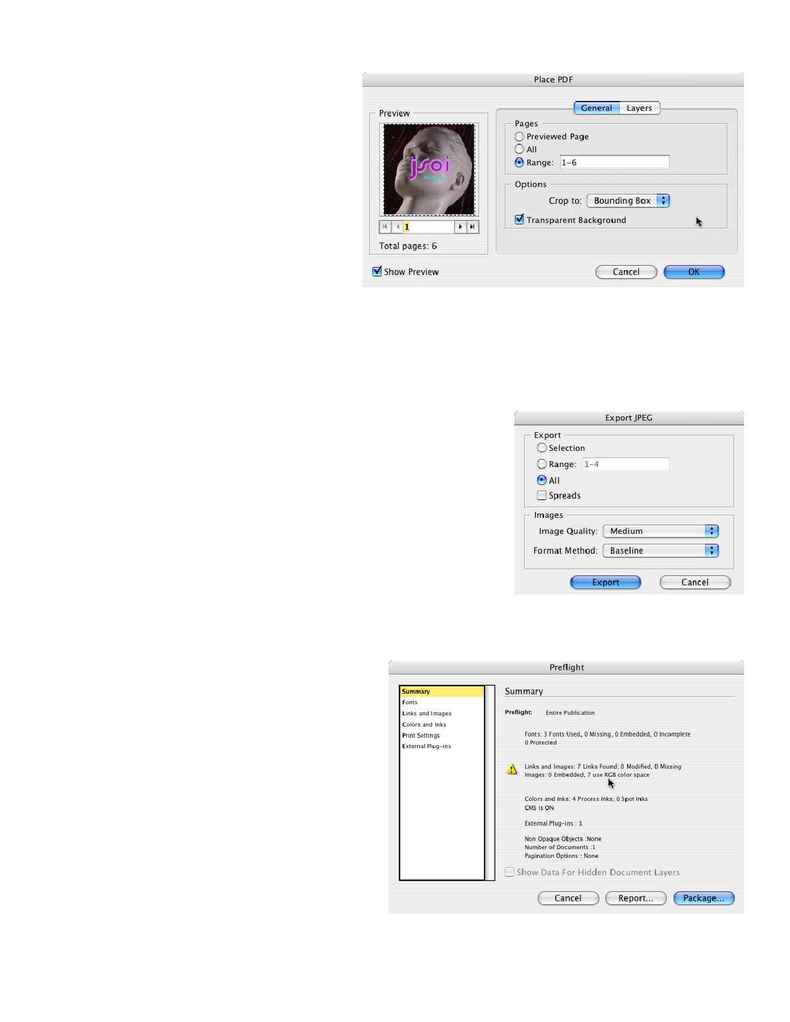 Import Multi-Page PDFs
This is another welcomed addition to InDesign and will
help speed up document assembly.
Step One: Create a document either with the same num-
ber of pages as the PDF or more or create a document with
multiple frames on the pages to hold the PDF pages that
Step Two: Choose Place from the File Menu and make sure
your Import Options are enabled. Locate the PDF you want
Step Three: When the PDF Import Options appear you
will be able to either choose All of the pages of the PDF
to place or a specific page range, then click OK. Now you
can just simply click the placement tool onto the pages that you want the PDF
pages to go on or into the frames that you had created. InDesign CS2 will con-
tinue allowing you to click until the all the PDF pages have been placed.
Multi-page Export to JPEG
Sometimes you just need to turn your pages into images. While InDesign CS
did have an export to various image format it was on a page by page basis.
With InDesign CS2 you can do a multiple page export to JPG format.
Step One: Open/create a multiple page InDesign document and choose Export
Step Two: Choose JPEG from the Format popup menu
Step Three: When the Export JPEG dialog box appears choose the page range
you want and which quality and compression settings you want. Click Export
Make sure your document is ready to go to Press
Although InDesign is a fine layout tool, there can be problems that happen
during final output. Most problems can be avoided by doing
a quick Preflight of your document before you send it off. The
built-in Preflight checks for common problems like missing or
outdated links, too many plates and missing fonts.
Step One: To Preflight your document, save it first.
Step Two: Choose, Preflight from the File Menu. If you're going
to Package your document, you might as well run the Package
command as it automatically does a Preflight first anyway.
Step Three: When the Preflight dialog box appears, you can
step through the areas on the left to get the specifics. If there
are any areas of concern, there will be a yellow triangle on the
area in question on the Summary Screen.