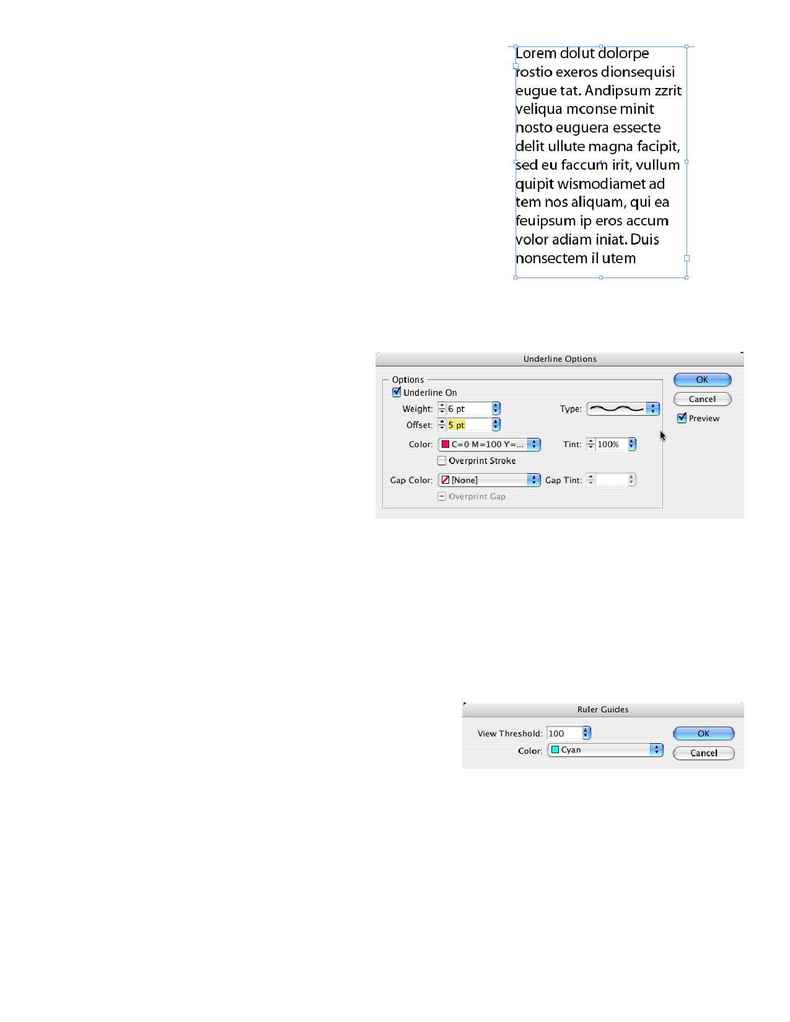 Fill with Placeholder Text
If you don't quite have the copy ready for your publication, but you would like
to get started on the layout and design, you can feel your frames with Place-
holder Text. InDesign has built-in text that it can use or you can use your own.
Step One: create a frame using the Type Tool.
Step Two: with your cursor in place, choose Fill with Placeholder Text from the
type menu and your frame will be filled with Placeholder Text that you can
replace when the real text is available.
Step Three: If you want to use your own Placeholder Text, you can create a text
file containing the text you want to be used by this feature. Call it placeholder.
txt and drop it into your InDesign application folder. The next time you use this
feature it will use your text instead.
Underling in InDesign CS2 just got a whole lot better
Now you're not limited to one or two underline styles. You can actually pick
from a variety of different underline styles to use for you text.
Step One: Highlight the text that you want to underline.
Step Two: Make sure that you're in the Character portion of
Step Three: Using the flyout menu, choose Underline Op-
tions to bring up the Underline Options dialog box. From
here you can choose from a variety of different types and
choose the color you want as well as the weight and offset.
Set a view threshold for your guides
Guides are great, but sometimes you just want to see your document without
having the guides in the way. Sure you can turn on and off your guides and
you can even go into Preview mode to see what the document would look like
without any non-printing items on it. However, since we primarily work with
guides when we're zoomed in and not when we're zoomed out, why not set a
viewing threshold that automatically shows the guides when we're zoomed in,
but not when we're zoomed out?
Step One: This feature is not retroactive to guides already on the page. It
will only apply to new guides that you create after you change the settings.
Choose Ruler Guides from the Layout menu.
Step Two: See a view threshold of 100% and click OK.
Step Three: Now zoom into your document to 100% or more and drag out a
guide from the ruler. Click onto the page to deselect it. When you zoom out
to less than 100% Zoom the guide will disappear. When you zoom back in to
100% or more the guide will reappear.