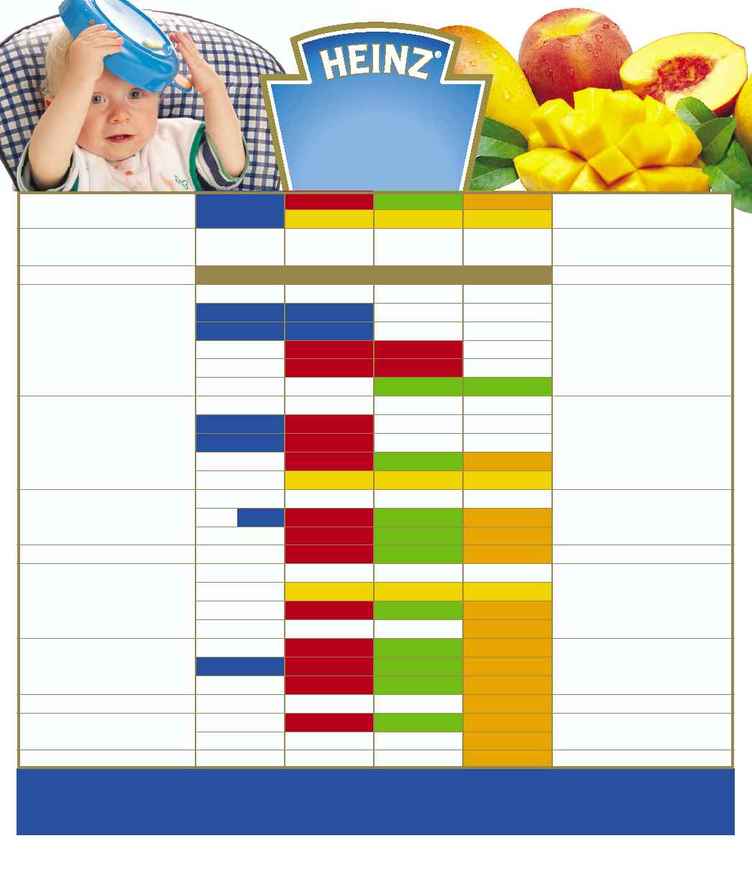 Use this as a guide only, when introducing new foods to your baby.
Offer one new food at a time, and continue with that food for a few days before introducing another food, so that by
12 months your baby is enjoying a variety of foods. Ask your child health nurse for help and advice.
For information on HEINZ Baby Foods call the HEINZ Baby Product Infoline 1800 633 333 or visit our website www.forbaby.com.au
Based on the NHMRC Draft Dietary Guidelines for Children and Adolescents 2001.
Textures
Breast Milk (or infant formula)
Heinz Baby Cereals
Multigrain Banana Breakfast, Baby's First
Muesli and High Protein Multigrain Mix
Fruit and Vegetables
Single fruits eg. apple, pear, banana
Single vegetables eg. potato, carrot, pumpkin
Try other varieties of fruit and vegetables
Heinz Baby Juice (already diluted)
Meat
Chicken, Beef, Lamb, Pork
Fish (boneless)
Dairy Foods
Custard/yoghurt, milk on cereal
Cheese - grated cheddar, cream, cottage
Whole cows milk to drink in a cup
Bread / Toast / Rusks (if no family allergy)
Rice / Congee
Pasta / Noodles / Cous Cous
Peanut (nut) Butter (if no family allergy)
Egg yolk - well cooked (if no family allergy)
Honey
First Foods - Not
Before 4 Mths
Pureed /
Fork Mashed
After 6 Mths
All Ages
Mashed/Minced
From 9 Mths
All Ages
Chopped,
Finger Foods
From 12 Mths
All Ages
Larger Dice,
Finger Foods
FOODS TO AVOID
Avoid adult cereals until after 12 months.
Baby cereals are iron enriched.
Avoid added salt and sugar
Avoid raw carrots, apples, popcorn and
other hard foods that may cause choking.
Avoid fatty meats, salamis, sausages and
fried foods.
Delay fish (until 12mths) if allergies in the family
Avoid cows milk as main drink until
12mths, (may use to mix with foods
from 6mths).
Avoid sweet biscuits, salty crackers and
salty snack foods.
Avoid nuts until 5 years due to choking risk.
Delay egg (until 12mths) if there is
a family history of allergy.
This is another form of sugar - use sparingly.