Heinzforbaby 1538 2492003115538 Page 1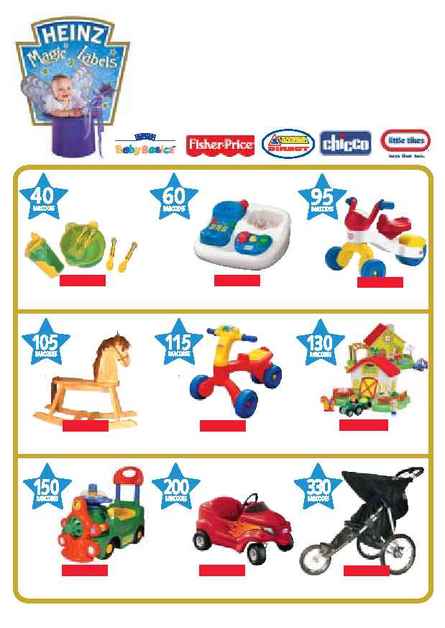 HEINZ MAGIC LABELSTM gives you the chance to
turn HEINZ Baby Food labels* into magical rewards.
Simply collect the barcodes on HEINZ Baby Food
labels*, post them (together with postage & handling
costs) and redeem them for the rewards below.
See Terms & Conditions for full details. Closes 30/9/03.
*Excluding HEINZ NURTURE Infant Formula Products.
Chicco Play VillageTM House and Farm
Code: VILLAGE
Call 1800 552 224 for order related queries
HEINZ BABY BASICS Toddler Feeding Set
RRP $35.40 NB: Colours may vary
Little Tikes Chat `n Play PhoneTM
BabyCo Swallow Rocking Horse
Chicco Play `n Ride TrainTM
BabyCo Swallow Jogger Stroller
Code: BASICS
Code: CHAT
Code: HORSE
Code: TRAIN
Code: CAR
Code: JOG
+ $10.50 for P&H
+ $16.20 for P&H
+ $17.40
for P&H
+ $19.70 for P&H
+ $20.50 for P&H
+ $15.70 for P&H
+ $15.70 for P&H
Fisher-Price Ready SteadyTM Ride-On
Code: READY
+ $17.40 for P&H
+ $17.40 for P&H
Little Tikes Go and Grow RiderTM
Code: RIDER