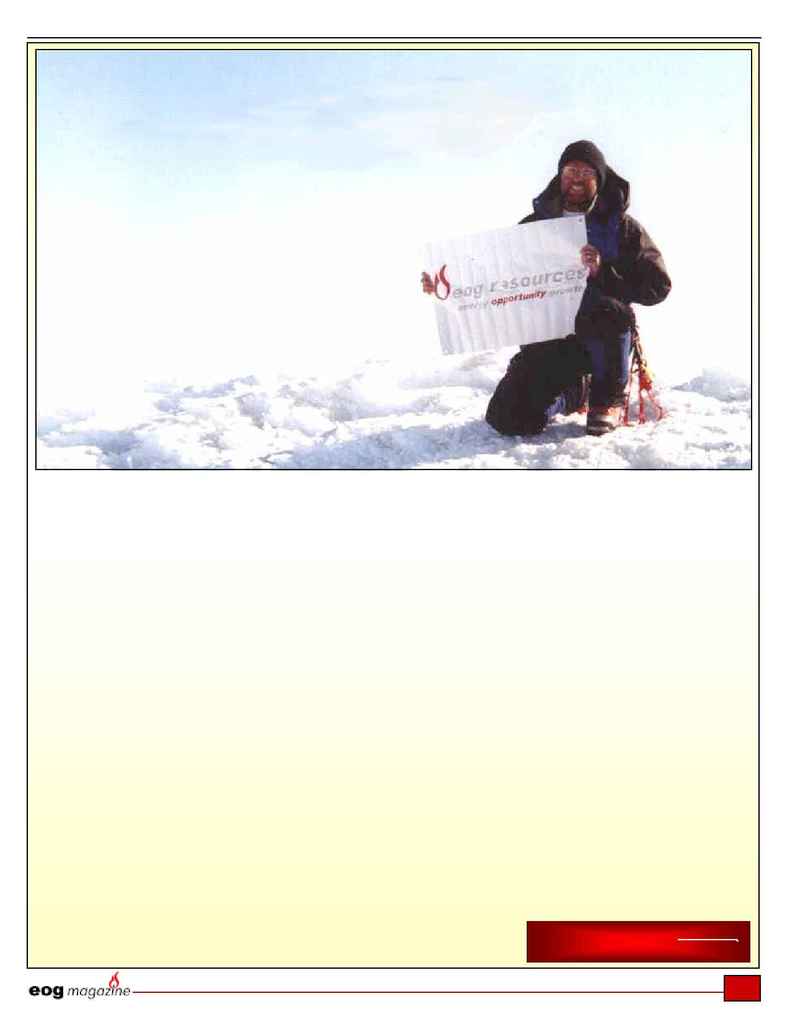 38
Dave Covill has spent his career
exploring the depths of the earth,
but his hobby has taken him
to the top of the world. This is
his personal account of his
latest climbing expedition to
Mt. Bona in Alaska.
p.m.. Sunday, June 8.
Mt. Bona. Wrangell ­ St.
Elias National Park. Middle
of nowhere, actually. Nothing but
mountains and glaciers for a
hundred miles in all directions. It's
over two miles to the nearest actual
rock I can see from here. Nothing
but snow and ice around, hundreds
of feet down to the mountain, miles
to a cliff across a valley too steep
to hold snow to its face. Valdez-
Cordova Borough Alaska. The
Great North. Land of the Midnight
Sun.
We're on the shoulder of Mt.
Bona, at around 15,500 feet. It has
been seven days since we were
flown by ski plane onto the lower
glacier at 10,500 feet. That's higher
than Leadville, Colo., the highest
city in America. Mt. Bona tops out
Dave Covill, lead engineering
technician in EOG's Denver Division,
proudly displays the EOG banner
when he reached the peak of Mt.
Bona, Alaska, the 11
th
highest peak
in North America at 16,500 feet.
at 16,500 feet; it is the fourth highest
U.S. peak, 11th highest in North
America, and the highest volcano in
America.
I'm with four other guys I know
from my various hobbies, including
mountain climbing and highpointing
(going to the highest points in each
state, county, country, etc.) Yes, I
have been to the highpoint of every
state in which EOG has an office,
although not Trinidad or Calgary.
Someday...
Jobe Wymore is a young stallion
from Salt Lake City who works for
Qwest, the long distance phone
company. He climbs big peaks in the
Wasatch and Uinta Mountains several
times a week. He's young (30) and in
great shape. He has summited Denali
(20,320', highest point of North
America), and talks of going to the
Himalayas someday soon. I have
neither the time, money, ability, or
inclination to do so, but I admire his
zest for life. During the Olympics last
February, Jobe let me stay at his Salt
Lake City condo, which was just a
block from the Mormon temple. I
owe Jobe.
Dick Ellsworth is a school teacher
and librarian from Kotzebue, Alaska.
I didn't know where that was, either.
Go to a map of Alaska, put your
To continue this story, click here.
This will launch a new document.