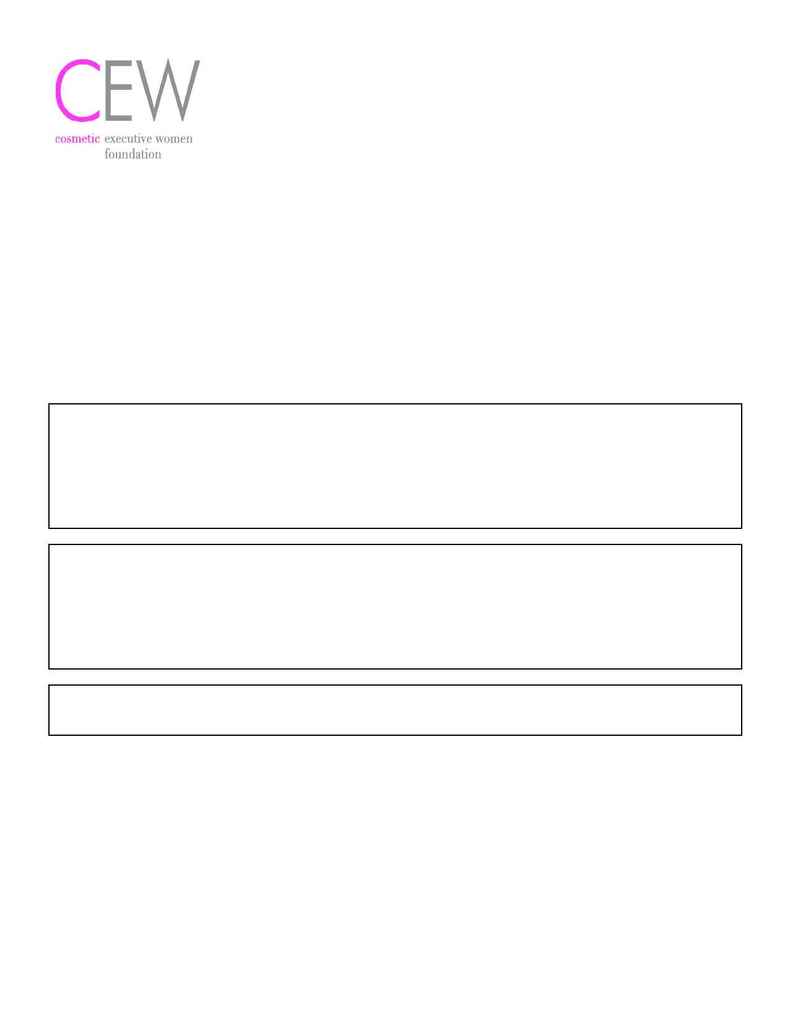 For More Information Please Contact Alicia Chin
Email: achin@cew.org Phone: (212) 685-5955 ext. 19 Fax: (212) 685-3334
Mail: CEW Foundation, 21 East 40
Street, Suite 1700 New York, NY 10016
Donations are tax-deductible to the extent allowed by law.
CEW Foundation is a non-profit ((501) (C) (3)) charitable organization.
EBAY CHARITY AUCTION 2004
PRIZE DONATION INSTRUCTIONS
All proceeds from the Cosmetic Executive Women Foundation eBay Charity Auction benefit Cancer and
Careers, a CEW program for working women with cancer (eBay does not profit from donations).
Previous CEW eBay auctions have been highly successful thanks to wonderful prizes like these:
· Chanel Summer Internship with $500 worth of Chanel products
· Portrait Sitting with Photographer Peter Freed
· Personal Cosmetic Makeover by Bobbi Brown
· Tickets to Entertainment Weekly's Oscar Viewing Party
· Hogan Bag (as seen in People Magazine)
· Half Moon Spa Vacation in Montego Bay with Botox and Restylane Treatments
Step 1: SEND TO CEW
Completed Prize Commitment Form
CEW Contact: Alicia Chin
Phone: 212.685.5955, ext. 19
Fax: 212.685.3334
Email: achin@cew.org
Mail: CEW Foundation, 21 East 40
Street, Suite 1700, New York, NY 10016
Step 2: SEND TO WORLD IN ADVANCE (eBay consulting company who handles all prize fulfillment)
Prize or Prize Letter on Company Letterhead (for trips, "experience" prizes, or future events)
Completed Prize Tag (to identify item donor, contact person, etc.)
World in Advance Contact: Brian Rovner
Phone: 415.452.4210
Email: brian@worldinadvance.com
Mail: World in Advance, 236 West Portal Avenue, #371, San Francisco, CA 94127
Step 3: Once CEW has received a completed Prize Commitment Form, a follow-up packet will be sent to the
administrative contact you have indicated. Materials will include sample prize descriptions, a request for
electronic photos of the prize and your company's logo (saved as JPG file).