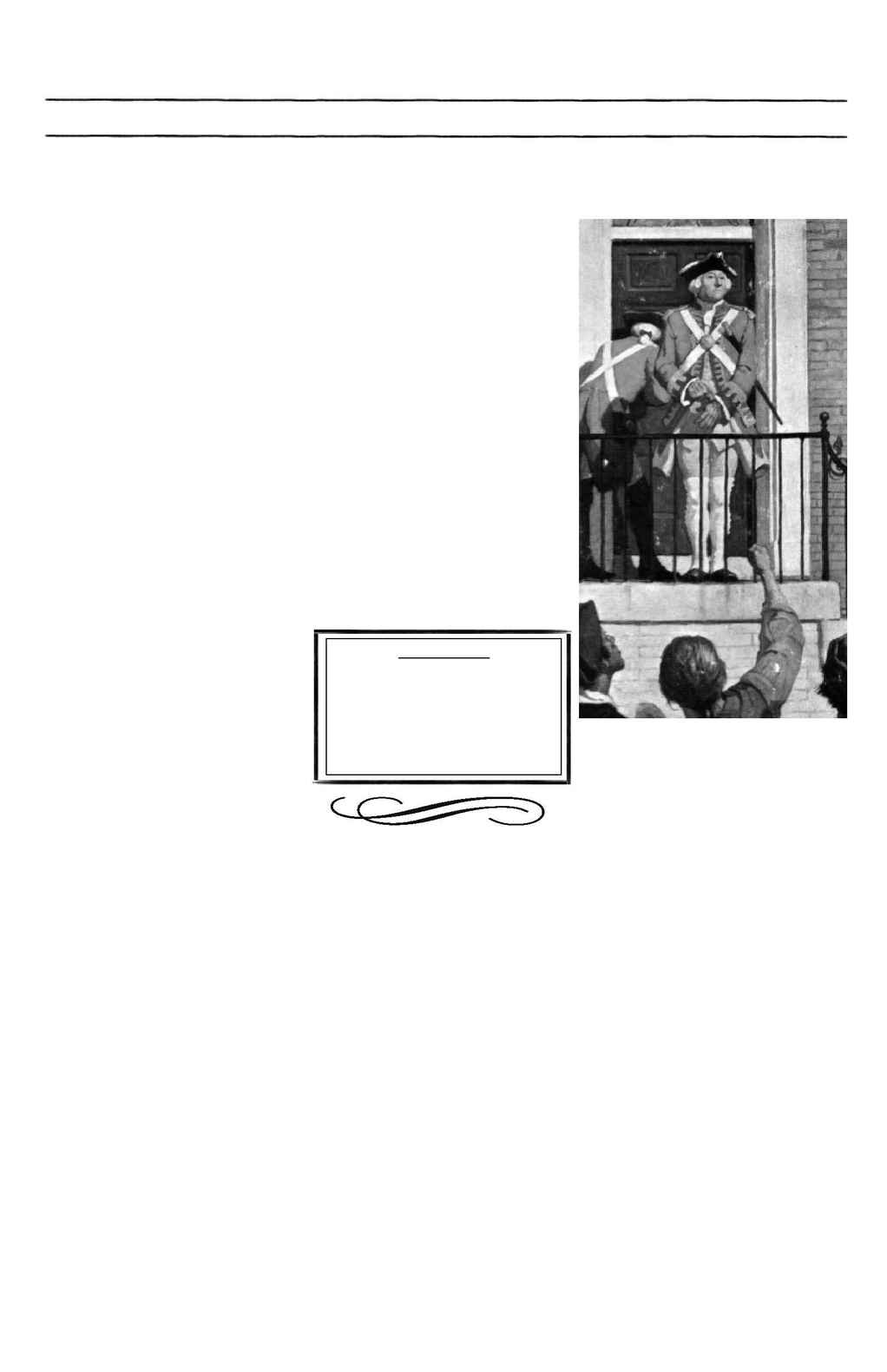 ritain responded to the "tea
party" last December by closing the
Boston Harbor indefinitely.
Word has just reached the shores
of the colonies that a series of acts have
been passed by the British Parliament.
Locally, people are beginning to call
these the "Intolerable Acts" because
they are designed to take away free-
doms from the colonists.
Along with closing the Boston
Harbor, the Acts establish British mil-
itary rule in Massachusetts. Now peo-
ple in that colony can no longer govern
themselves. Elected officials will be
replaced with men appointed by the
British. And there will be even more
British military soldiers seen through-
out Boston.
In addition, colonists will now be
required to quarter British troops,
meaning you may soon have a British
soldier living with you. If this hap-
pens, you will be required to feed him,
and even do his laundry.
"It is bad enough that they tell
us what kind of tea to buy, then make
us pay taxes to them for it," said
Deborah Johnson, referring to the
East India Company's British-man-
dated monopoly in the colonies.
"But now to ask us to serve them that
tea in our own homes?! That is going
too far."
colonists feel the actions taken in
Boston go too far. Joseph McMahan
of Concord, Massachusetts, a town
near Boston, says, "Those rabble-
rousing Sons of Liberty are a menace
to this English society! We are sub-
jects of the Crown, and paying a tax is
our duty!"
It remains to be seen whether
the plan to regain control of Boston
will work, or whether it will merely
fuel the fires of rebellion among the
colonists. Could this be the breaking
point?
ry our hippopotamus teeth! Very
strong, with natural coloring.
Dr. Hubbard can provide you with new
Big Blow to Boston: Harbor Closed!
Knock Knock. Who's there?
Colonial News, Culture & Life.