Ozark Foothills Film Fest entry form 2 Page 1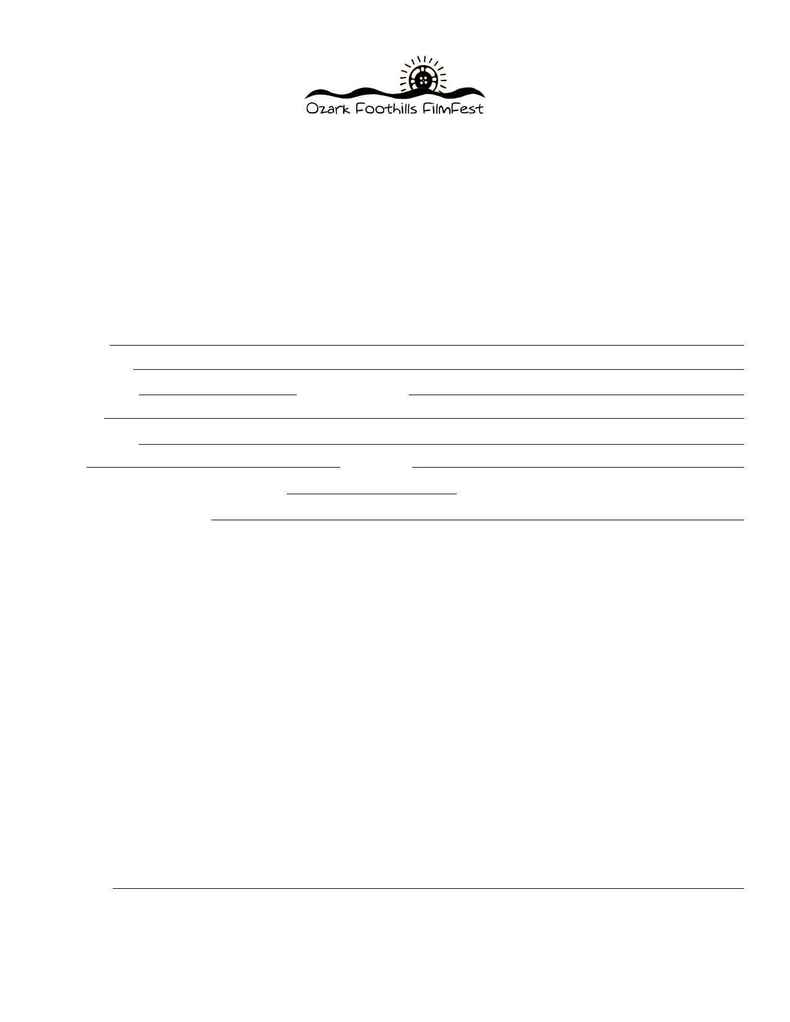 Annual Ozark Foothills FilmFest
Batesville and Little Rock, AR
ENTRY FORM - DEADLINE DECEMBER 1, 2007
Mail this completed form, along with your $10 entry fee, to:
Ozark Foothills FilmFest
195 Peel Road
Locust Grove, AR 72550

Film Title:
Does your entry have U.S. distribution?
If yes, with what company?

Category:
G OFFICIAL SELECTION. Narrative or documentary films an hour or longer in length.
G INDIE SHOWCASE. Narrative, documentary, animated, or experimental films less than an hour in
length.

Production format:
G 35mm G 16mm G Super 8 G Video

Screening format:
G 35mm G DVD G Mini-DV/DVCam

Will
this screening be a premiere (based on previous theatrical or festival screenings)?
G US Premiere G Southern Premiere G Arkansas Premiere

Other public screenings, festivals, awards:
I hereby attest that I hold the exhibition rights to the film being entered. If accepted, I grant Ozark Foothills FilmFest
permission to show my work in any "Best of" compilation screenings or touring programs.
Signature:

Please include a brief written description or filmmaker's statement of the film and, if possible, provide a digital film
still via CD or email. You may also include reviews, filmmaker bio(s), cast and credit information.