Maurice's Gourmet Barbeque Maurices catering cover sheet Page 1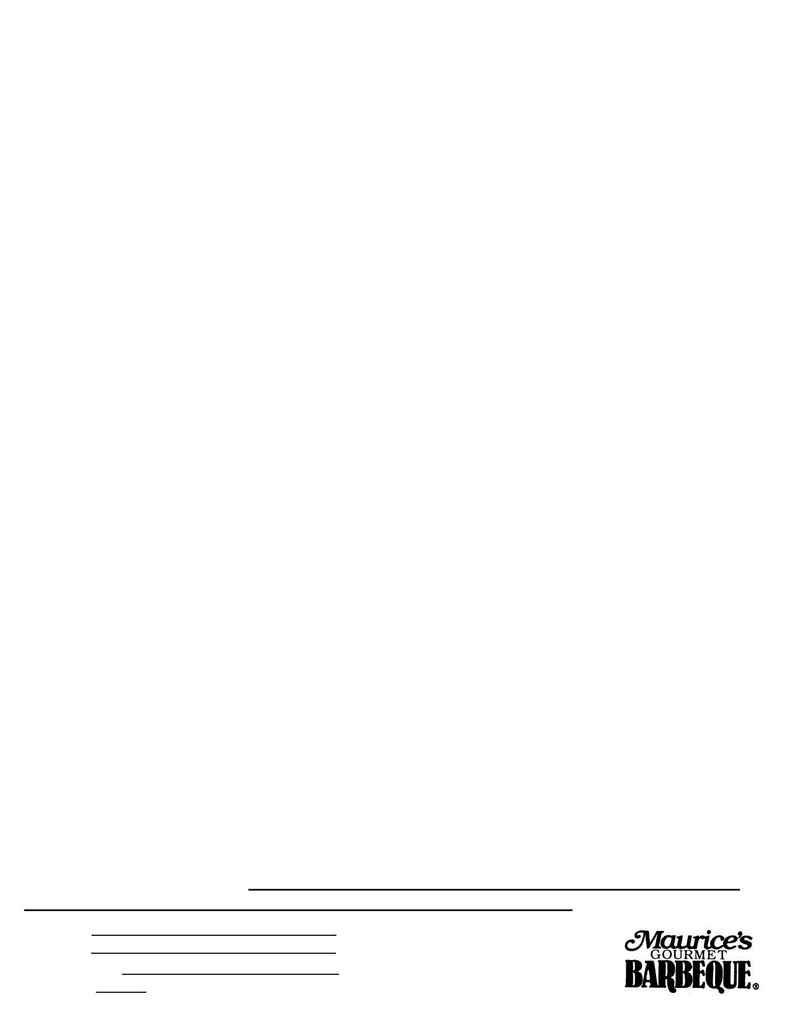 Catering Reservation Instructions
Maurice's Gourmet Bar-B-Q
Phone: 1-800-628-7423 Fax: 1-803-791-8707
1. Circle the items you'd like to serve
3. We will fax you a proposal that you sign and Fax back
5. PAYMENT IS DUE WHEN CATERING IS BOOKED
6. Accepted Payment Methods:
B. Money Order C. Credit Card (#'s may be given to Joyce @ HQ)
Payment may be mailed to:
7. Billing Information may be provided IN ADVANCE
8. Tables will be needed - 6 to 8 Feet long
3 Long tables for up to 100 people
4 Long tables for over 100 people
9. CLEAN UP SERVICE IS PROVIDED FOR THE TABLES WE SERVE FROM
10. All food left over will remain with you
11. THE MINIMUM NUMBER OF PEOPLE MUST BE 30
12. Caterer must be there 1 hour in advance to set up
13. We do not cater on Sunday or Wednesday unless previous arrangements have been
made and catering is approved.
14. Night caterings (all those after 6:00pm) will have 10% added to the total bill.
15. Children 6 years and under eat for 1/2 price
16. Caterings outside central SC can be arranged - Price depends on location and
distance traveled ($50.00 travel fee outside central Columbia Area & $150 travel
fee for outside central SC)
17. Catering Area must be well lit if site is outside
18. 50 People minimum for events outside the Central Columbia Area
19. Advance payments or credit card securement is required for ALL out of town
***Please Call FIVE (5) Days before event to confirm catering is booked and
there are no changes to the menu or in the number to be served. Numbers
will then be locked in. $10.00 extra charge for each hour over normal stay
time of 2 Hours. Extra charge for items not on the menu.
Fax #:
Date:
Deliver To:
Pages: