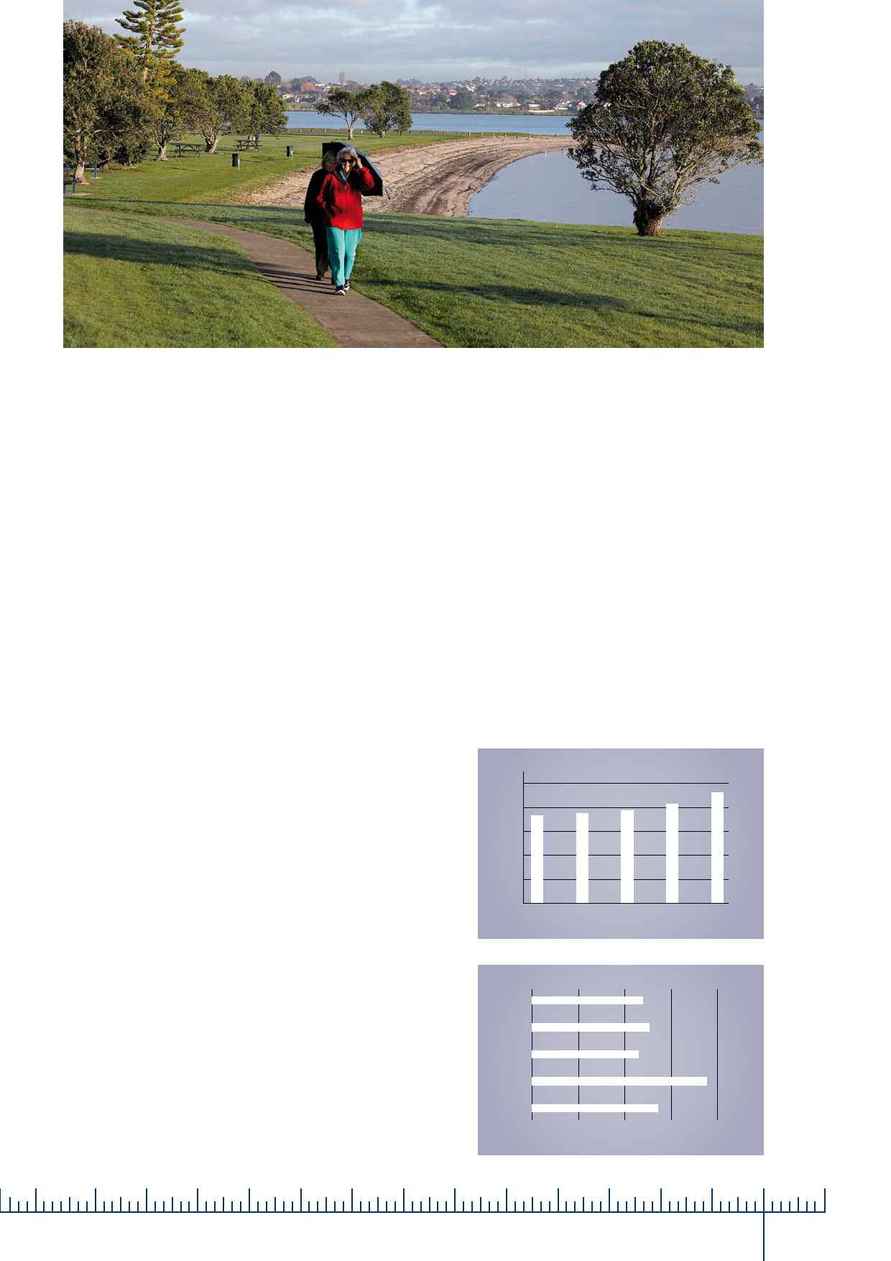 Figure I: Median Gross Remuneration
The median remuneration for all City Care employees
in the financial year was $45,853 compared to $41,245
in 2005. This represents a percentage increase of 11%.
hours of work
City Care is mindful of the need for work-life balance. The
company therefore monitors the hours worked by employees
to ensure our management practices do not impose
excessive demands on individuals. None of our collective
employment agreements require staff to work more than 40
hours per week, but management and peer pressure is likely
to create instances where employees do work longer than
they would otherwise choose. For each event where
someone works more than 60 hours, a report is generated for
senior management, so that we can assess whether we have
a justified one-off instance or some regular work or
management practices causing long hours.
Figure H shows the number of staff who worked more than
48 hours each week in the last year. It also shows the number
of hours worked by the individual at the 90th percentile, and
the highest number of hours worked by any individual each
week. Note, however, that the spike during the Christmas
holiday period (December 2005 ­ January 2006) does not
indicate that a staff member worked 120 hours in this
instance as these hours were not all worked during the same
week but included "catch-up hours" for on call work over the
Christmas period when payroll staff were on holiday.
staff satisfaction
This year, in addition to surveying staff in November, we also
conducted a follow up survey at the end of the reporting
period in late June/early July. Following the November
survey, managers targeted two areas of the survey where
they wanted to improve the score. In June, although there
was a slight drop in staff satisfaction overall (from 68 to 67),
there were increased levels of satisfaction in the areas
targeted, which related to communication and motivation.
Furthermore, the response rate was a very pleasing 70%.
This was a significant improvement on previous surveys
which had averaged around a 45% response rate.
The results from the June survey showed
reduced levels of satisfaction in the areas of
pay and benefits and feedback on progress.
This is not unexpected as we had not long
completed remuneration reviews and
performance reviews in November 2005,
whereas in June 2006 we were just about to
enter the annual round of pay reviews,
collective agreement negotiations and
performance reviews. We would therefore
predict an improvement in these scores if we
resurveyed in November 2006.
Seven out of ten staff who completed
the survey in June rated their satisfaction
level at working for City Care as six out of
ten or higher.
Figure J: Staff Satisfaction

July 2006

Nov 2005

Nov 2004

Nov 2003

Nov 2002