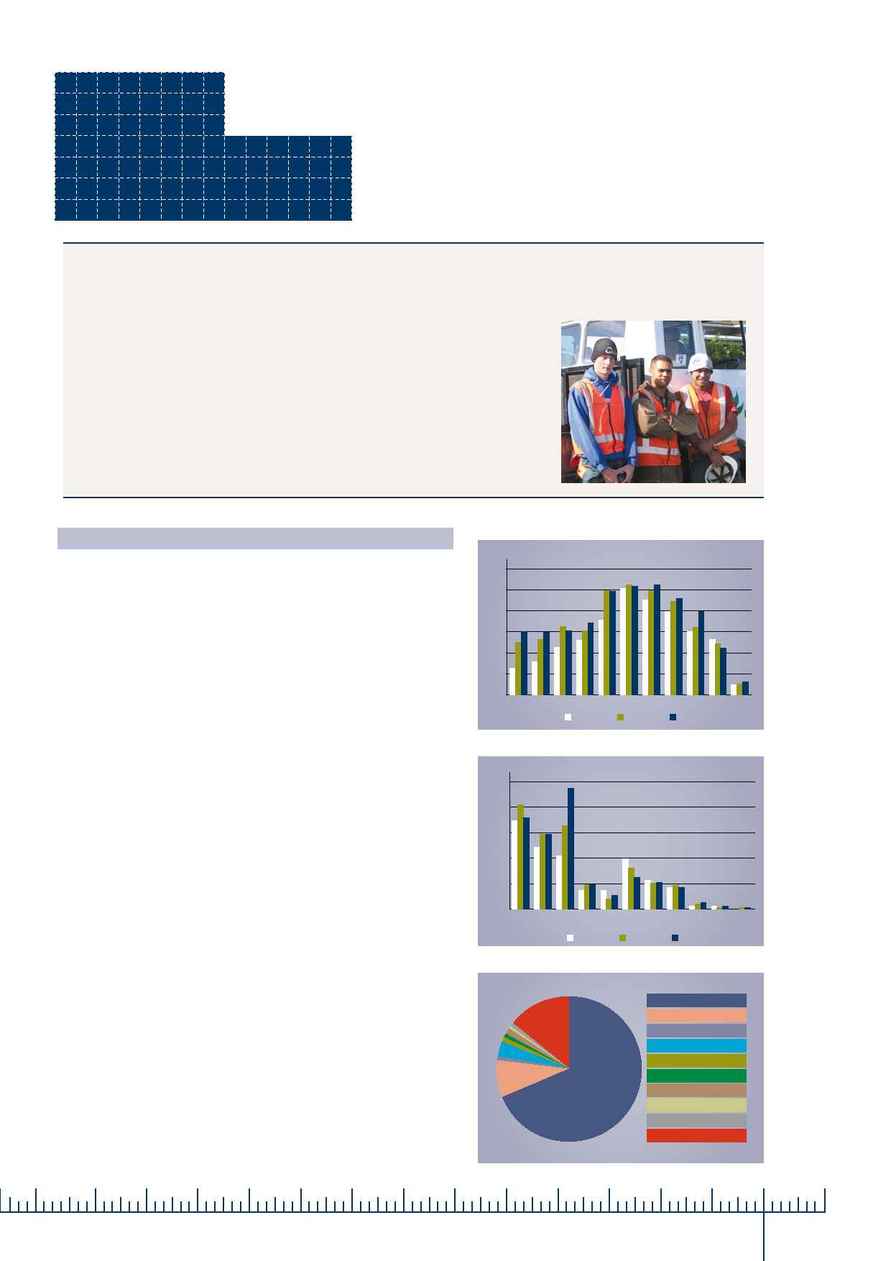 our
people
i n t r O d u C i n g O u r s ta f f
who works for City Care?
Our typical waged employee, Bill, is a 41 year-old male who
has worked for City Care for seven years. Having started in
the trade over 20 years ago when few apprenticeships were
available, Bill learnt his trade from those more experienced
staff he worked alongside. However, he is now three-quarters
of the way through his training to achieve a formal trade
qualification. Bill works an average of 41.5 hours per week.
The adjacent graphs illustrate the age, average length
of service, and ethnic profile of City Care's employees.
As illustrated in Figure E, City Care's successful
pre-apprenticeship programme has contributed to a marked
increase in younger employees since 2004. The average age
of our employees is now 41.4 years.
The average length of service for a City Care staff member
is 7.3 years. Almost 70% of our staff have less than five
years service, reflecting the rapid growth of the company
since 1999.
Our gender profile is unchanged from last year with a
predominance of male employees (89%), characteristic of the
industry we work in. The diversity of our staff in terms of the
ethnic group they identify with is illustrated in Figure G.
City Care Pre-Apprentice Programme
graduates become mentors to new recruits
City Care's Pre-Apprenticeship Work Skills Programme has come full circle with the first
graduates of the programme that commenced in 2002 now acting as mentors and role models
to the latest intake of recruits. Phillip van't Wout from the 2006 intake is pictured right with
Anthony Skipper from the 2003 Programme and Shaun Tainui of the 2004 Programme.
The Pre-Apprenticeship Work Skills Programme is a unique training scheme that offers
unemployed youth and school-leavers the opportunity to participate in paid employment
through a series of rotational placements covering the varied trades at City Care. The
programme offers a pathway to a career in the contracting sector in roading, horticulture,
water and wastewater, building services or fleet services.
The programme has proven very successful in providing City Care with a pool of young and
skilled staff to allow the company to continue to grow sustainably in the future.
15-19 20-24 25-29 30-35 35-39 40-44 45-49 50-54 55-59 60-64 65+
N
u
m
b
e
r

o
f

E
m
p
l
o
y
e
e
s

69% New Zealand Pakeha
8% New Zealand Maori
1% Australian
3% UK
1% Europe
1% African Continent
1% Samoan
1% Other pacific island
1% Other

14% Not known
Figure F: Service Profile
2-5 5-10 10-15 15-20 20-25 25-30 30-35 35-40 >40
N
u
m
b
e
r

o
f

E
m
p
l
o
y
e
e
s