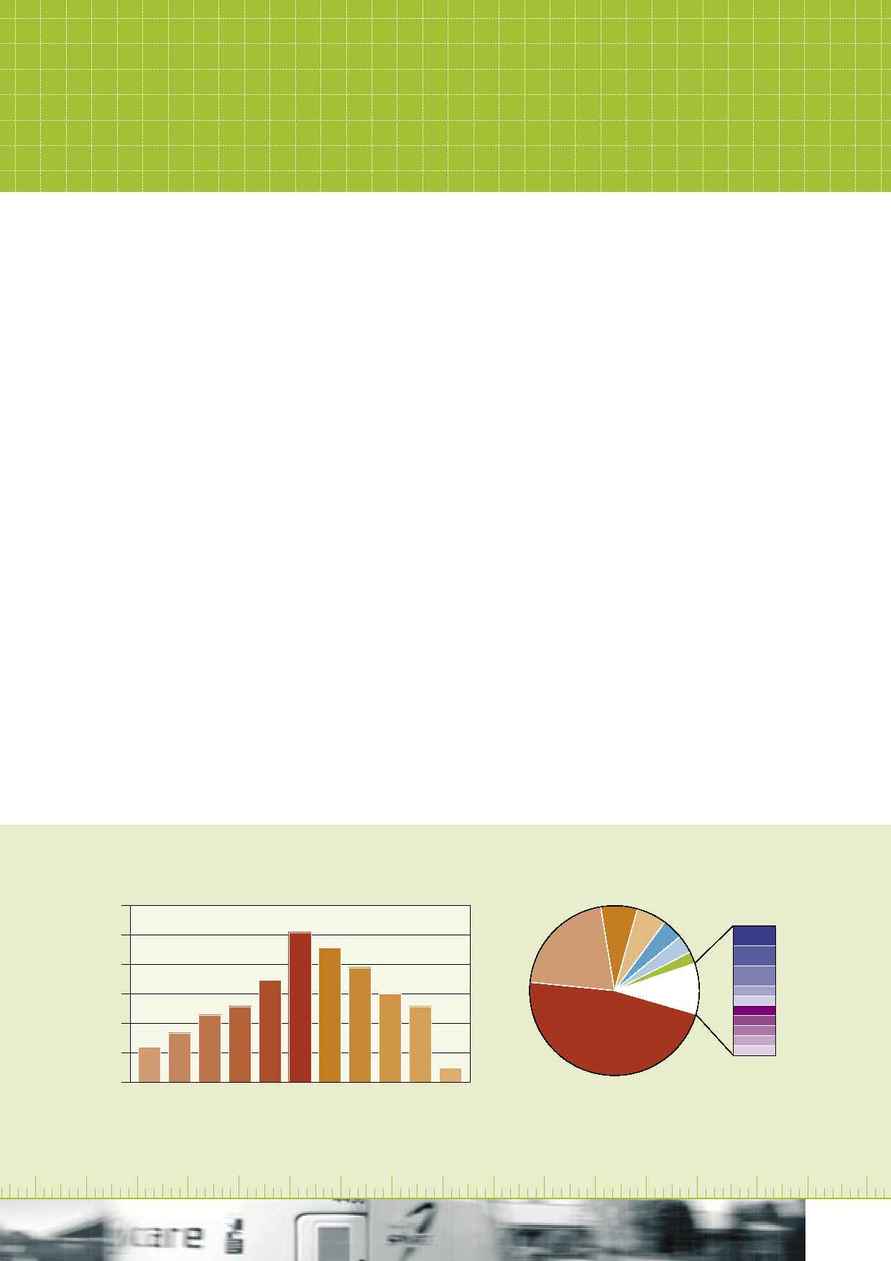 FIG.03. CITY CARE EMPLOYEE AGE PROFILE
17-19 20-24 25-29 30-34 35-39 40-44 45-49 50-54 55-59 60-65 65+
FIG.04. ETHNICITY OF CITY CARE STAFF
(EXCLUDES EUROPEAN NZers)
1
1
1
1
1
1
1
City Care's service profile is skewed
to service of less than 5 years, due
to growth of the company. Total staff
numbers have increased by 181 over
the last two years, with an additional
80 new staff as replacements for
staff leaving. As an indicator of our
recent demand for new employees,
City Care recruited 127 people in the
second half of the year (including our
24 pre-apprentices).
Though they are new to City Care,
many of our recent recruits have
experience and skills in our industry
sectors. For example, in the case
of recruiting for large long-term
contracts won from a competitor,
typically 60 to 80% of the staff
previously associated with the
contract are employed by City Care.
If we take out staff associated with
company growth, median service
at City Care (and previously at
Christchurch City Council) exceeds
15 years. We have 15 staff with over
30 years service, and our longest
serving staff member, Donald Clark,
has been with the organisation
for 41.5 years. Donald works as a
pump's maintenance fitter.
Many of City Care's occupational
groups require a moderate to high level
of physical fitness. For this reason,
the company looks to age profiles of
our worker groups as one indicator of
sustainability of our workforce.
As a result of a proactive approach
to recruiting youth into the industry,
via modern apprenticeships and our
pre-apprentice programme, City
Care has reduced the average age
of its work force from 46 to 43 in the
last 2 years.
At the end of the year, City Care had
23 employees under the age of 20,
with our youngest having just turned
17. City Care's oldest employee
is in his 68th year and works as a
handyman in our parks division.
Of the staff recruited in 2004, 20%
were females, increasing the female
percentage from 8% to 10% of
the total work force. Like all of our
competitors, City Care is only able
to attract very limited numbers of
females to any of the civil engineering
and building trades.
While the vast majority of our staff
(77%) simply define themselves as
New Zealanders or more specifically
European New Zealanders, City Care
employs a wide range of people who
identify with other national or ethnic
groups. 10.5% of our employees are
Maori and 4.7% are from the UK.
In the context of the Christchurch
community, City Care is an above
average employer of Maori and
Pacifica people, but our organisation
has not yet been attractive to
Asian people.