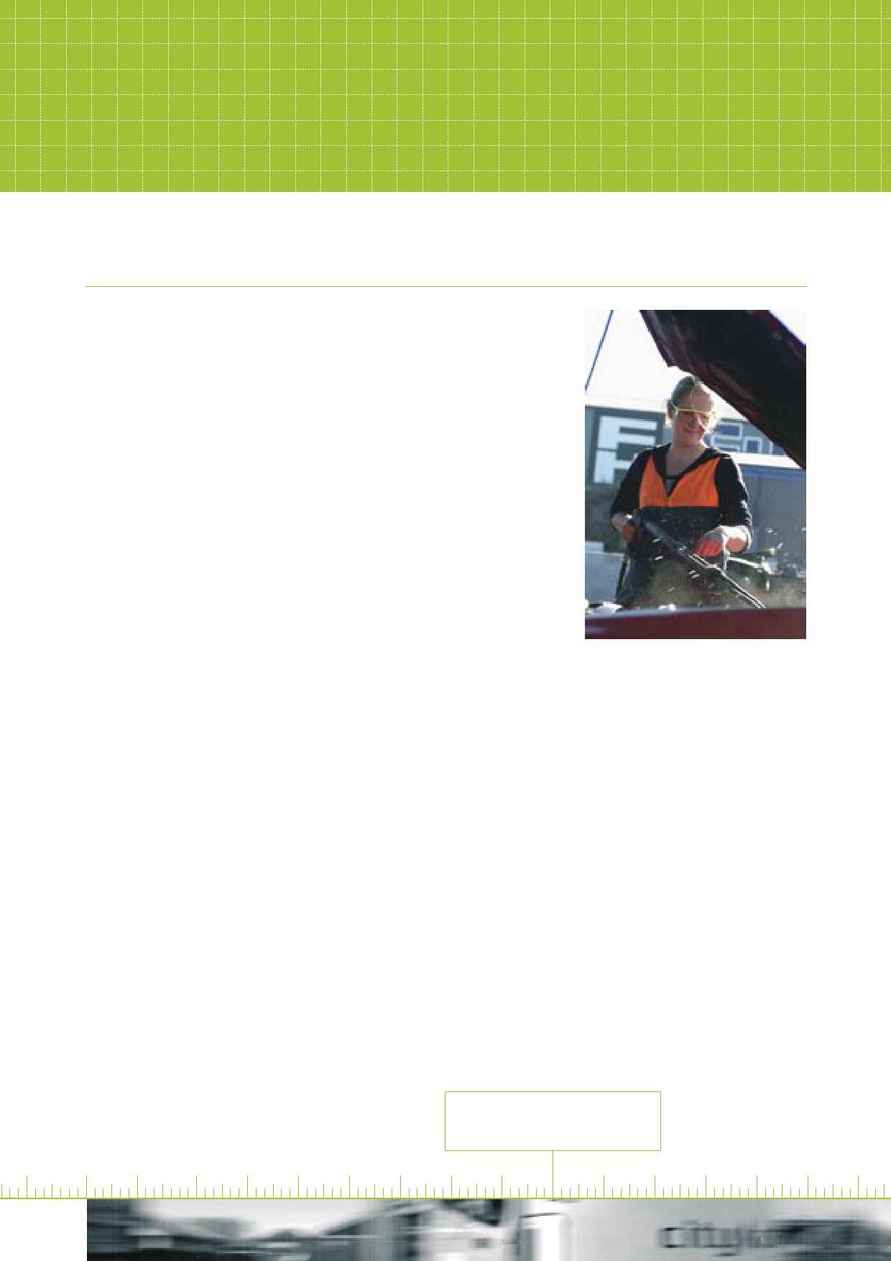 SEP-03: City Care starts contract for
the electrical maintenance of pumping
stations and treatment plants in Tauranga.
City Care's Vision is to be regarded
as the best in the business. To
achieve this we are devoted to
continuous improvement of the ways
we operate as a company.
In our pursuit of excellence, City
Care has adopted international
and national standards to assess
the quality of our key management
systems. City Care is independently
assessed, across all operations and
locations, as being compliant with
the following standards:
· ISO 9001 Quality Management
· ISO 14001 Environmental
· NZS 4801 Health and Safety
Management Practices - Tertiary
Level
In addition, City Care was the first
company in NZ to achieve all five
levels of the Enviromark Certification,
a measure of legislative compliance
and excellence in health and safety
and environmental management,
and we remain the only company
to achieve Enviromark Diamond
certification. We have now held
this certification through two audit
rounds.
Our next target for best practice
is certification to the Investors in
People standard. This will verify our
approach to talent management
and staff development, and once
achieved will enable potential
employees to differentiate City
Care as an employer of choice, as
compared to other organisations.
These systems accreditations are
markers that give our customers
independent assurance that we are
at least getting the basics right, and
that we will pursue improvements.
Our benchmarking shows us that
best practice goes way beyond
just achieving some ISO standards.
In many infrastructure sectors,
independent accreditation to quality,
environmental, and health and
safety system standards should be
regarded as essential attributes for
any contractor of services.
To move beyond this basic systems
approach, City Care uses the
Baldrige Criteria for Performance
Excellence as our means of
establishing priorities for improving
our overall business. The Baldrige
Criteria are published annually by the
US Department of Commerce, and
reflect latest research findings on
successful management practices in
high performance organisations. City
Care carries out at least one audit
of our management systems and
practices against this standard each
year. This provides us with a number
of business improvement projects
that, once completed, will enhance
our organisational performance in
line with our Vision.
When we combine our pursuit
of excellence with formal client
partnerships, City Care's clients are
able to benefit from service features
and innovation rates not readily
matched by our competitors.
Tui van Aalst, Pre-apprentice 2004