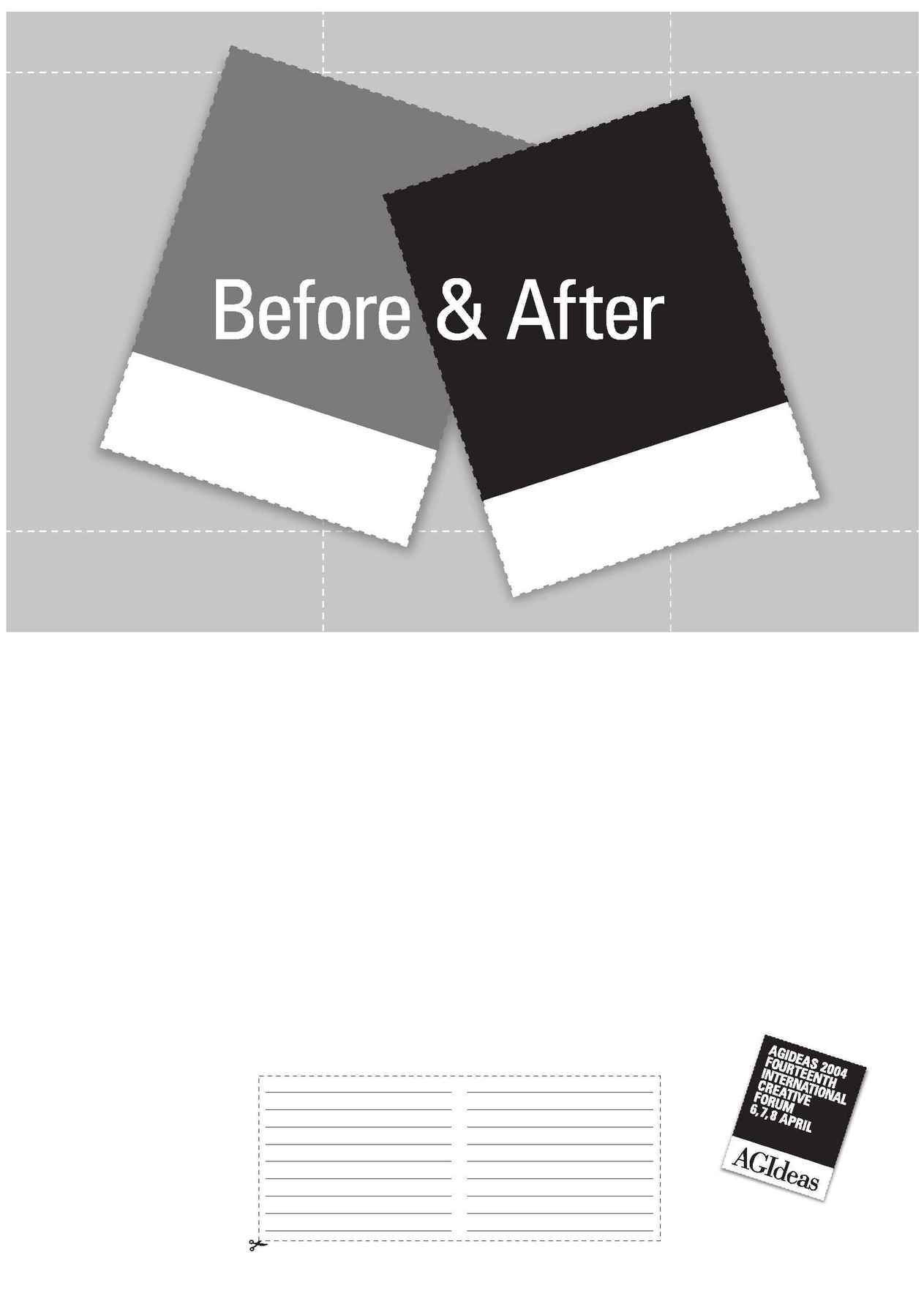 Student/New Graduates Awards
Win a scholarship to Fabrica, Italy, a traveling scholarship to
America or Europe. Students and new graduates attending
AGIdeas have the opportunity to win a traveling scholarship by
entering either the The Collie Trust Award or the Cato Partners Award.
Eligibility
Only open to students and new graduates who attend AGIdeas
2004. New graduates include those AGIdeas delegates who
were enrolled as full time students in 2003. New graduates
are also entitled to register at student rates for AGIdeas 2004.
This means that you only pay student registration fees as well
as being eligible to enter the awards.
Exhibition
Short listed entries in each award will
be exhibited at AGIdeas 2004.
Collie Trust Award
2D & 3D
A traveling scholarship, to Europe or the USA to attend
an international design event or for work experience, will
be awarded to the student or new graduate with the best
2D or 3D response to the theme Before and After.
2D entries to be mounted on A2 5mm board.
3D entries can be an illustration of the 3D concept
or a 3 dimensional piece with a base no bigger than A2.
Cato Partners Award
Multi-Media
A traveling scholarship, to Europe or the USA to attend an
international design event or for work experience, will be
awarded to the student or new graduate with the best 2D
or 3D response to the theme Before and After.
Entries should be no longer than 60 seconds and must be
presented on a CD Rom in a format that can be run independently
on a Macintosh computer without the software it was created in.

Fabrica Scholarship
Short listed entries in the Cato Partners Award and the Collie
Trust Award by those less than 25 years, along with a digital
folio will be submitted to Fabrica. One of these entrants will be
awarded a Fabrica Scholarship. Please note that conditions apply.
Eligibility
You must be under 25 years old. You must include a digital
portfolio on CD with your entry in the Cato Partners Award or
Collie Trust Award plus a copy of your entry (see details below).
For dimensional entries please submit a photograph with a
description of the piece on the back. For 3D concepts or 2D
entries please include a second print unmounted. For multimedia
entries please include a duplicate CD. Fabrica staff in association
with The Design Foundation will choose the winner and no
correspondence will be entered into. Winners of one award
are not excluded from winning the others.
Conditions
The scholarship will be awarded for up to one year and will include
airfare, accommodation and tuition. The scholarship will begin on
a two week trial basis after which time, an assessment will be
made by Fabrica staff as to whether to continue the scholarship.
Fabrica
Fabrica, the Research and Development Communication Centre
for the Benetton Group is housed in a stunning building by Japanese
architect Tadao Ando and is situated outside Treviso in North Italy.
Led by an international team, Fabrica supports the creative
development of young artist/researchers from all over the world.
Fabrica invites young artists to participate in a range of
communication activities, in cinema or graphics, design or music,
as part of Colors Magazine, or within new media or photography.
In its role as a laboratory of applied creativity (its name comes
from the Latin word meaning "workshop"), Fabrica deals with
new forms of communication, following two key principles:
a hands-on approach to training (the young grant holders are
invited to "learn by practice"), and a multi-disciplinary approach.
See www.fabrica.it for further details.
Deadline
Entries in all awards must be received
no later than 5pm, 23rd March 2004.
Send to:
The Design Foundation
c/o Cato Purnell Partners Inc Pty Ltd
254 Swan St
Richmond Vic 3121
Australia
No late entries can be accepted. Short listing
will occur on the evening of the 23rd March, 2004.
If you do not send a copy of your entry or a photograph in the
case of 3D entries, along with a digital portfolio on CD, your
entry will not be submitted to Fabrica.
The Award Winners
The winners will be declared to delegates attending AGIdeas
2004. AGIdeas reserves the right to promote or publish any
works submitted. The works may be used for public exhibition
or publication. The designer will always be credited but it is
the responsibility of the Designer to protect their copyright.
The entries will be short listed by industry leaders. The speakers
at AGIdeas 2004 will select award winners from the short list.
Fabrica staff will select the Fabrica Scholarship. You must be
in attendance to claim prizes. The judge's decision is final,
no correspondence will be entered into.
For further details and registration
for AGIdeas 2004, Fourteenth
International Creative Forum,
visit www.agideas.net.
Name
Address
Date of Birth
Phone
Institution
Course Year
level
Title of work
Company
Please photocopy and attach to your duplicate entry
Description of work
Creatively interpret
`Before & After' to
be eligible to win
an international
travel grant.
DESIG
N AW
AWARD
WA
S
AGID
EAS 2
004