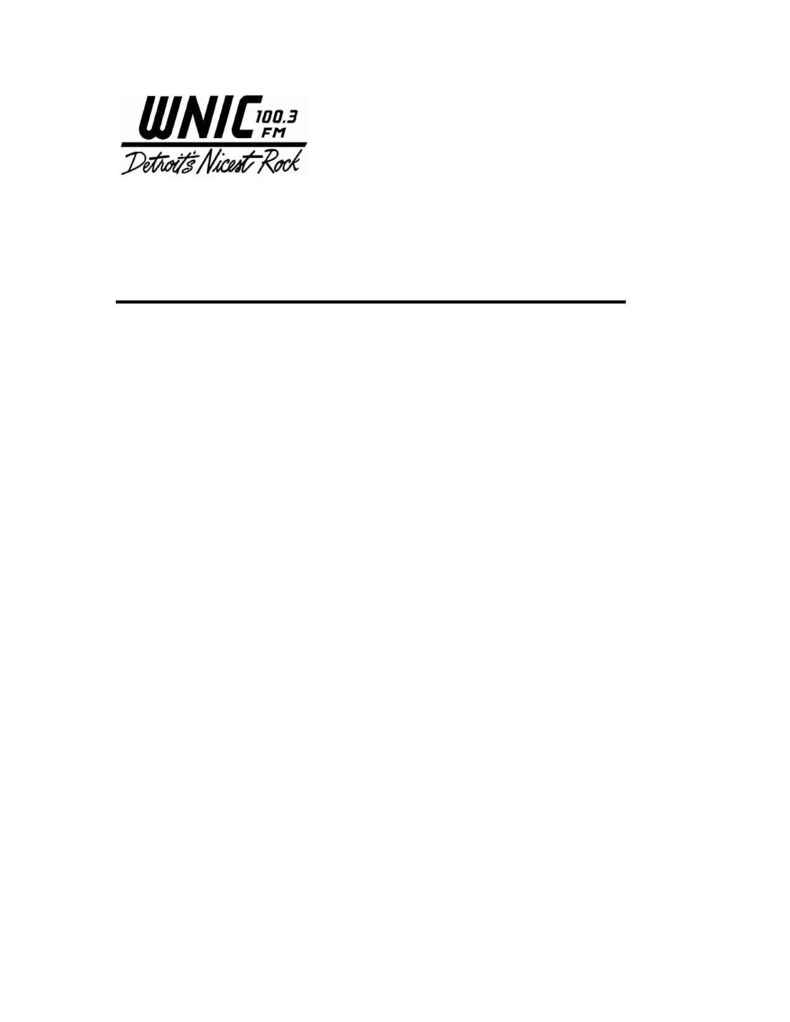 Sept. 24, 2001
FOR IMMEDIATE RELEASE
Michelle Frasik, Director of Marketing/Promotions
313-584-1495 fax 313-846-3722 michellefrasik@clearchannel.com
100.3 WNIC ANNOUNCES CHUCK GAIDICA JOINS MORNING SHOW
DEARBORN, MI ­ Local 4 (WDIV-TV) personality, Chuck Gaidica, is joining
100.3 FM WNIC's top-rated morning show, "The Breakfast Club." Stephen
Schram, Market Manager for Clear Channel Radio Detroit and Vice
President/General Manager of WNIC, made the announcement. Gaidica officially
begins on WNIC Monday, September 24
th
from 6-10am.
Schram commented, "Chuck Gaidica is perfectly suited to join the WNIC Breakfast
Club. For over 20 years he has been a top-rated media personality in Detroit. We
are very proud to welcome him back to the WNIC family. With his dynamic variety
of interests and talent, we know our listeners will appreciate getting to know Chuck
even better every morning."
Gaidica joins "Breakfast Club"members Stacey DuFord, Lori Bennett, and
Dave Lockhart. He continues with his current weather duties at Local 4. Interim
"Summer Vacation Breakfast Club" host, Chris Edmonds, returns to his highly rated
3-8pm show on WNIC, also effective Monday. Schram saluted Edmonds for his
incredible professionalism, good humor and endurance during a sleep-starved
schedule for the past three-and-a-half months.
In addition to his weather forecasting duties at Local 4, Gaidica is currently the
president of his own company, Gaidica Communications. Chuck's past credits
include substitute weather duties for NBC News' Weekend Today Show and CBS
Morning News. He originally appeared on WNIC from 1982-1992 as the station's
weather forecaster. Besides being a passionate environmentalist, Gaidica's other
interests are flying and scuba diving. He, his wife Sus an and their five children
reside in Grosse Pointe.
WNIC 100.3 FM is owned by Clear Channel Communications, Inc., headquartered in San Antonio, Texas. Clear Channel
owns or operates approximately 1,170 radio and 19 television stations in the United States and has equity interests in over 240
radio stations internationally. Clear Channel also operates more than approximately 700,000 outdoor advertising displays,
including billboards, street furniture and transit panels around the world. And, in 2000, Clear Channel produced over 25,000
shows and events. Clear Channel's international businesses are run by Clear Channel International ("CCI"), which is
headquartered in London. Besides WNIC, Clear Channel Communications, Inc. also owns the following Detroit radio
stations: WKQI (Q95.5 FM); Alice (WLLC) 106.7 FM; WDFN 1130 AM; WJLB 97.9 FM; WMXD 92.3 FM; WXDX
1310AM. For more information on this and other WNIC events, please visit wnic.com