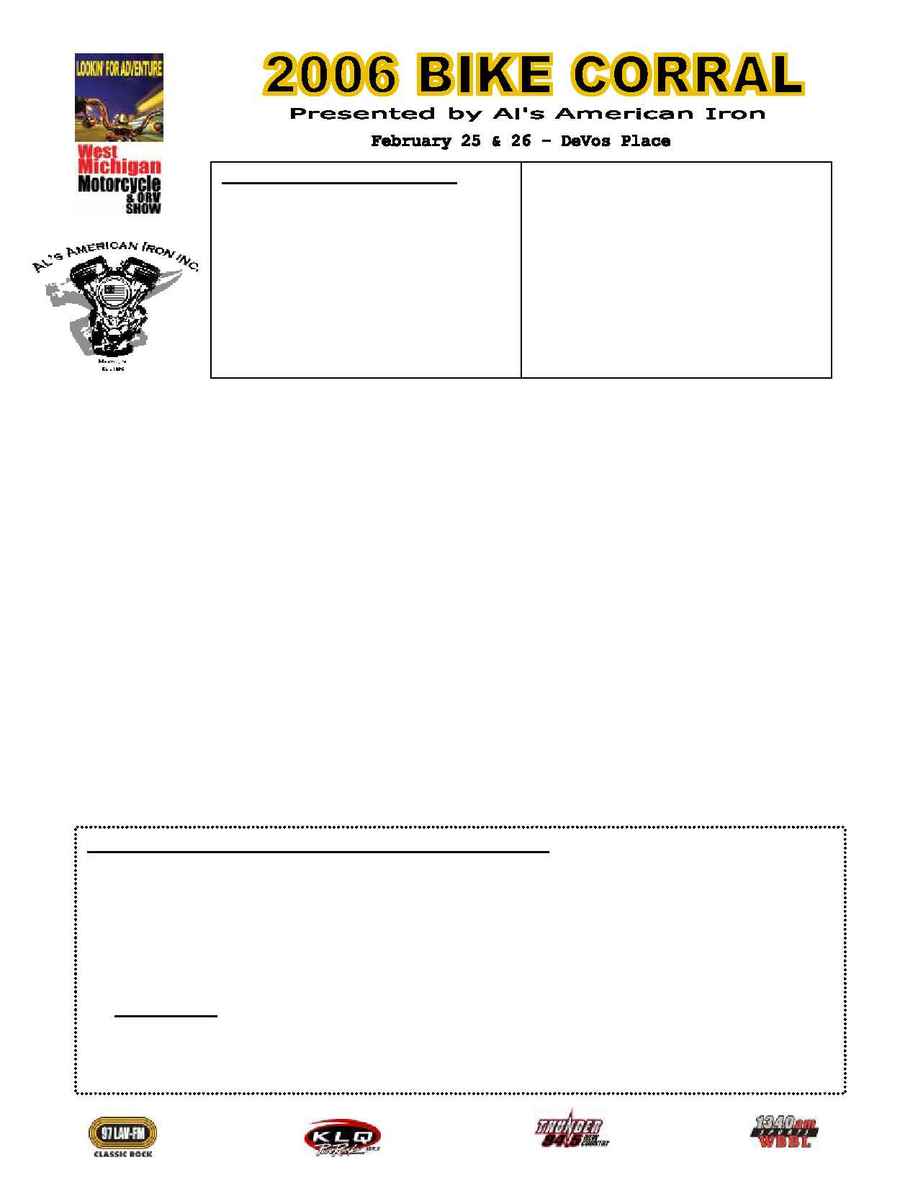 _____________________________________________________
NAME/BIKE OWNER: DAYTIME PHONE NUMBER:

_______________________________________________________________________________
ADDRESS: STATE: ZIP:

_______________________________________________________________________________
MOTORCYCLE DESCRIPTION: (Year/Make/Model)

_______________________________________________________________________________
MOTOR TYPE/ANY UPGRADES/CUSTOM WORK DONE:

_______________________________________________________________________________
ADDITIONAL INFORMATION/WORK DONE ON BIKE:

_______________________________________________________________________________
ADDITIONAL INFORMATION/WORK DONE ON BIKE:

_______________________________________________________________________________
DESIRED CLASS TO ENTER: (judges reserve the right to change your class upon bike evaluation)
Entry Fee: $25/Bike
(Includes two show tix)
Payable To: Citadel Broadcasting
Entry Deadline: Friday, Feb. 17
Awards:
1
st
, 2
nd
, and 3
rd
place in each class
Individual Awards:
Best of Show,
Outstanding Paint, Outstanding Chrome
Mail Entry To:
BIKE CORRAL
60 MONROE CENTER 3
rd
FLOOR
GRAND RAPIDS MI 49503
Check Your Desired Bike Class:
(All factory parts, no fabrication)
(Non H-D stock or
d
slight fabrication class)
(1965-1985)
(Pre 1965)
CUSTOM BIKE CORRAL AND DEVOS PLACE RULES:
All Bikes must load in on Friday, February 24
th
from 12n - 7p at DeVos Place (NO EXCEPTIONS)
ALL BIKES MUST HAVE UNDER ¼ TANK OF GAS TO BE ALLOWED TO LOAD-IN
ALL GAS CAPS MUST BE SEALED WITH A STRIP OF TAPE PRIOR TO LOAD-IN
BATTERIES MUST BE DISCONNECTED PRIOR TO LOAD-IN
NO SILICONE OR OIL BASE CLEANERS ARE ALLOWED INSIDE DEVOS PLACE
DO NOT SILICONE THE SURFACE OF TIRES
Award Ceremony: Sunday, February 26 @ 2pm (main stage)
Judging panel reserves the right to change the classification of your bike without your consent during inspection.
Promoter reserves the rights to combine classes with less than five bikes entered
DISCLAIMER:
Owners may bring in lighting and/or flooring to enhance the presentation of your bike, but you are prohibited from
entering or solicitating from the Bike Corral during show times on either day. The Bike Corral is judged solely on the personal
preferences of a diversified panel of judges who are selected for their knowledge and profession within the motorcycle industry. No
score sheets will be made available for review by contestants. Contestants are responsible for attempting to indicate the correct class
for their bike, but No Contest Entry Fees will be refunded on bikes that are moved to another class by the judging panel.
No whiners or crybabies please. This is a fun event.