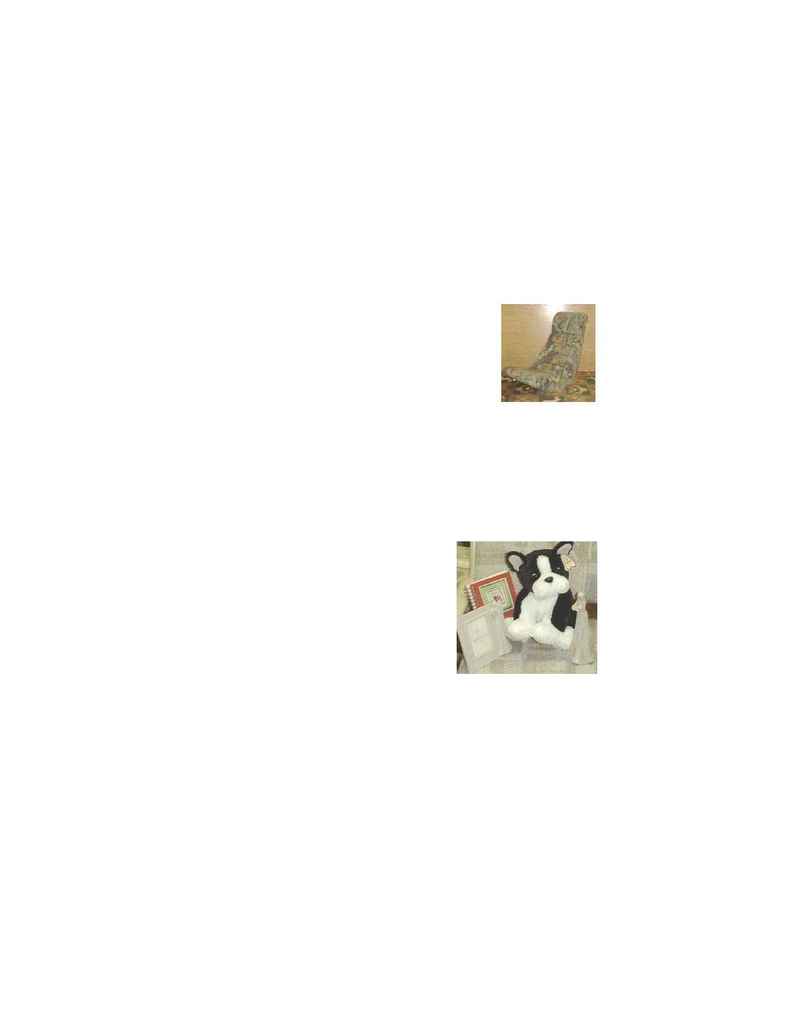 85
$250.00
86
$60.00
87
$25.00
89
$76.00
90
$65.00
91
$25.00
92
$60.00
93
$129.00
94
$24.00
95
$50.00
96
$60.00
97
$25.00
98
$50.00
99
$60.25
100
$25.00
101
$200.00
102
$90.00
103
$29.50
104
$214.99
105
$135.00
Whitestone Pointe Cabins, AuGres - One night stay at Whitestone Pointe cabins. Full
furnished, clean cabins just 7 miles north of AuGres on the beautiful sandy shore of Lake
Huron. All you need is clothes & groceries. See us on the web at
whitestonepointecabins.com or call for reservations at 876-2775. Offer expires 6/15/07.
Schmitt Tire & Gas, W. Branch - Tire rotation and oil change. (5 qts. oil and filter).
Simply Delicious, Sand Lake - 4 hours of cooking done for you
in your home by a personal chef. Limited to Iosco County.
Alward's Market, Hale - Whole N.Y. strip loin. Approximately 15 pounds, will cut and wrap
free. Enjoy New York strip steaks on the grill!
Hobarts Furniture, Oscoda - $250 storewide gift certificate. New furniture purchase only.
One coupon per purchase. Not redeemable for cash.
Marbies Nutrition, Tawas City - $25 Gift certificate. Not redeemable for cash.
Green Briar Golf Course, Lupton - 18 holes of golf for two with cart. Good Mon. thru
Thurs. Please call for tee time. Expires 10/8/07. Limit one 18 hole round for two with cart per
auction.
G's Pizzeria, Oscoda - Three super G's pizzas.
Hollywood Professional Tan, East Tawas - One "My-myst", level 2, spray tan. Clear or
bronzer. Premium Mystic tan with ultra myst.
AuSable Valley Power Sports, Oscoda - Polaris snowmobile helmet. Size XL, matte black
with anti-fog, scratch resistant, dual lens, shield.
Branham's Jewelry, Oscoda - Ladies' Pulsar watch. Mother of pearl dial with date, comes
with three interchangeable leather bands, pink, black & baby blue.
North Country Signs & Shirts, East Tawas - Varsity jacket for one of these high schools:
Tawas Area, Oscoda Area, Whittemore-Prescott or Hale. Choice of sizes from small to extra
large. Includes embroidery.
West Branch Flour Mill - 30 lb. case of chocolate caramels. Pick up by Mar. 16, 2007.
Ultra Images & Spa North, W. Branch - 10 tanning visits in the Hex tanner.
Fashionable Resale, W. Branch - $50 Gift certificate valid on all merchandise. Not
redeemable for cash.
West Branch Paint Supply & Corner
Treasures, W. Branch - "Family Pack". Contains plush
Boston Terrier stuffed animal, 10" mother & child figurine,
a hardcover family journal and a life impressions, 8"
photo frame.
Hale Hardware, Hale - Mossy oak camouflage video
rocker. Very comfortable for playing video games. For
kids of all ages. 30" highx17-1/2" wide x 34" deep.
The Coffee Break, Standish - Gift certificate towards 3 lunch specials. Lunch special
includes sandwich, chips, pickles, small soup and drink. Not to be used at one visit.
Treasure's Forever, AuGres - $50 Gift certificate. Not redeemable for cash.
Hsing's Garden, East Tawas - $25 gift certificate.
Not redeemable for cash. Limit one certificate per visit.