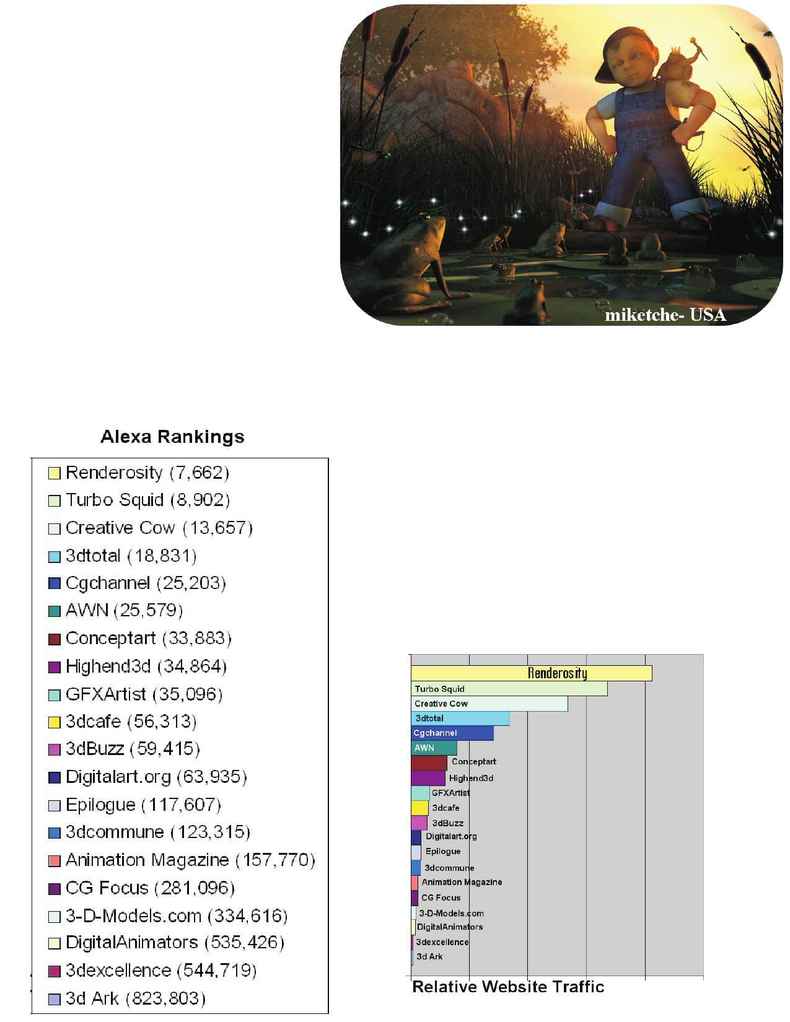 RENDEROSITY ­ HEADS ABOVE THE REST

INDEPENDENT RESEARCH
Alexa is an independent traffic and popularity
ranking service, which provides key information
about each site on the internet.
Alexa ranks sites starting with the number 1
site and work their way down, assigning higher
numbers to the lower ranking sites.
The traffic rank is based on three months of
aggregated historical traffic data from millions
of Alexa Toolbar users and is a combined
measure of page views and users (reach).
According to Alexa's stats, Renderosity is the
leader in the digital art industry ranking heads
above other free membership sites serving the
needs of digital artists.
Independent surveys and member polls from
several websites indicate that Renderosity is
the number 1 choice with artists of the sites
they regularly visit.
ONE OF A KIND
Renderosity is the largest free, independent, art community
serving the needs of digital artists.
Because our site was created by artists for artists, we respect
and value artistic creations.
We will not have "Discount Clubs", because we believe this
devalues the work of artists. We will also never use an artist's
work without permission.
By creating a respectful and supportive atmosphere, we are now
the largest, free, centralized resource for digital artists,
animators, photographers, writers and art lovers all over the
world.
We hope you will come and enjoy Renderosity with us!