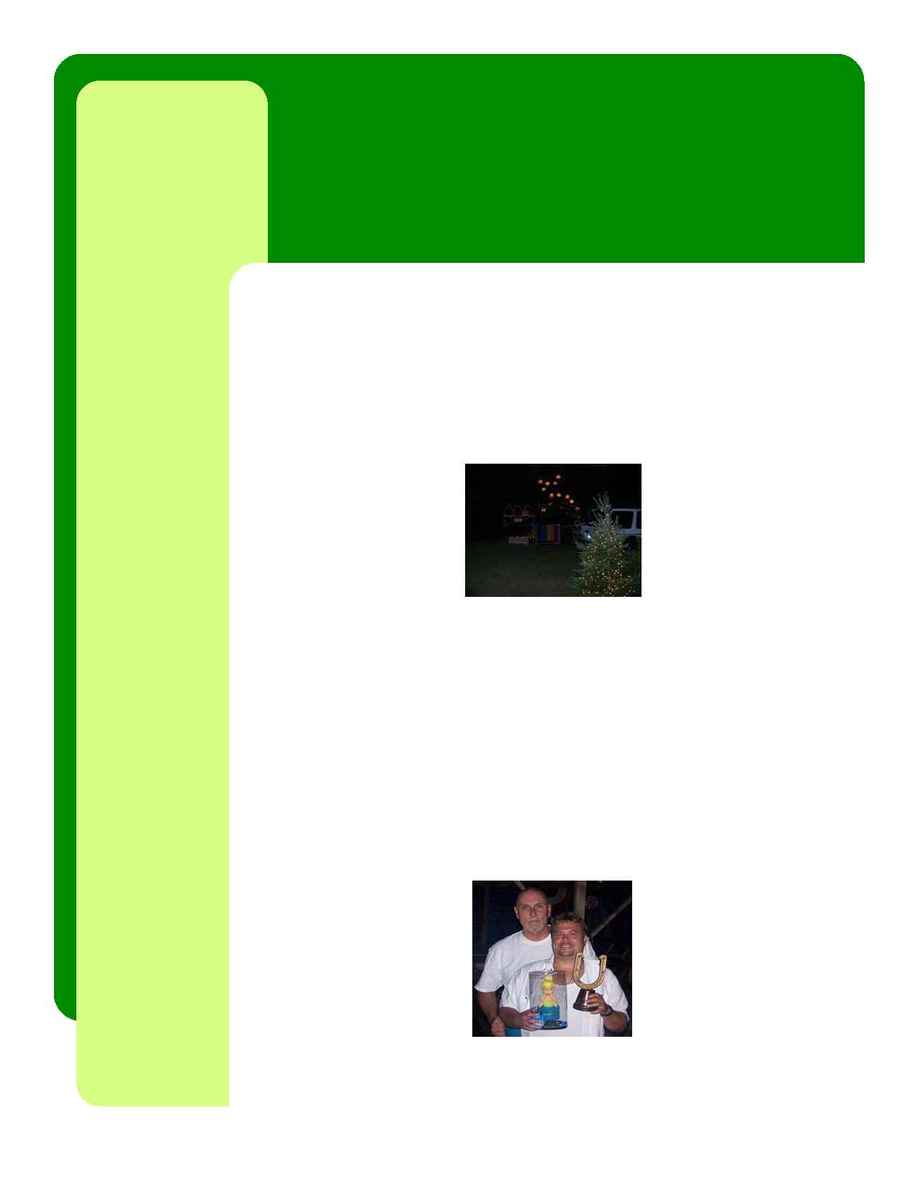 tried to perform) their favorite
songs which took singing by the
campfire to new heights.
All in all it was a great weekend
for all who attended, and the
Christmas spirit ran high
throughout the weekend. Once
again thanks to Lyall, our events
planner, it was a Christmas
weekend in which the only thing
missing was the possibility of
snow.
Christmas came early this year to
Rainbow Woods. Our Christmas
In July Weekend was more fun
than expected.
Campers enjoyed decorating
their respective campsites for the
"holiday" and a chance to com-
pete in our Illumination contest.
Our usual pot luck dinner be-
came a wonderful holiday dinner
with all the trimmings and even
included a visit from Santa Claus
who passed out grab bag gifts.
Extra Christmas themed prizes
were offered in our weekly 50/50
raffle, giving campers more
chances to win. While an im-
promptu karaoke session capped
off the Saturday night bonfire as
campers performed (or at least
To coincide with our Christmas
In July event, an Illumination con-
test was held this weekend, giv-
ing campers a chance to get crea-
tive as they decorated their
campsites for the "holiday".
Campers who participated added
items to their sites that ranged
from simple adornments to
comical displays as they vied for
one of our coveted Golden
Horseshoe trophies as well as a
prize.
Judges made their rounds at
approximately 8 PM Saturday
evening and proclaimed the win-
ner later in the evening at the
bonfire.
The winners were Dave and Ed,
who managed to claim the tro-
phy even though as tenters they
have a non-electric site.
The award was well deserved as
they utilized candles, not only to
accent their site, but also pro-
vided luminaries along the road
to light the way to the site for
other campers to visit.
The site itself was beautifully
decorated with candles from top
to bottom, including suspended
chandeliers.
Christmas In July at Rainbow
Woods
Christmas In July Weekend
I N S I D E
T H I S I S S U E :
Holiday
Dinner
2
Naughty
Santa
2
Camping Tips
2
Site Seeing
3
Campfire
Tales
3
50/50 Fund
Raiser
3
Next Event
4
Illumination Contest Winners
J U L Y 1 6 , 2 0 0 7
V O L U M E 1 I S S U E 2
F U T U R E
E V E N T S
Wigstock
Weekend
7/27-7/29
Mardi Gras
Weekend
8/3-8/5
Hawaiian
Luau 8/17-
8/19
Anniversary
Party 8/25
Winners Dave and Ed