EventClicks, Ltd. List Of Opportunities Page 1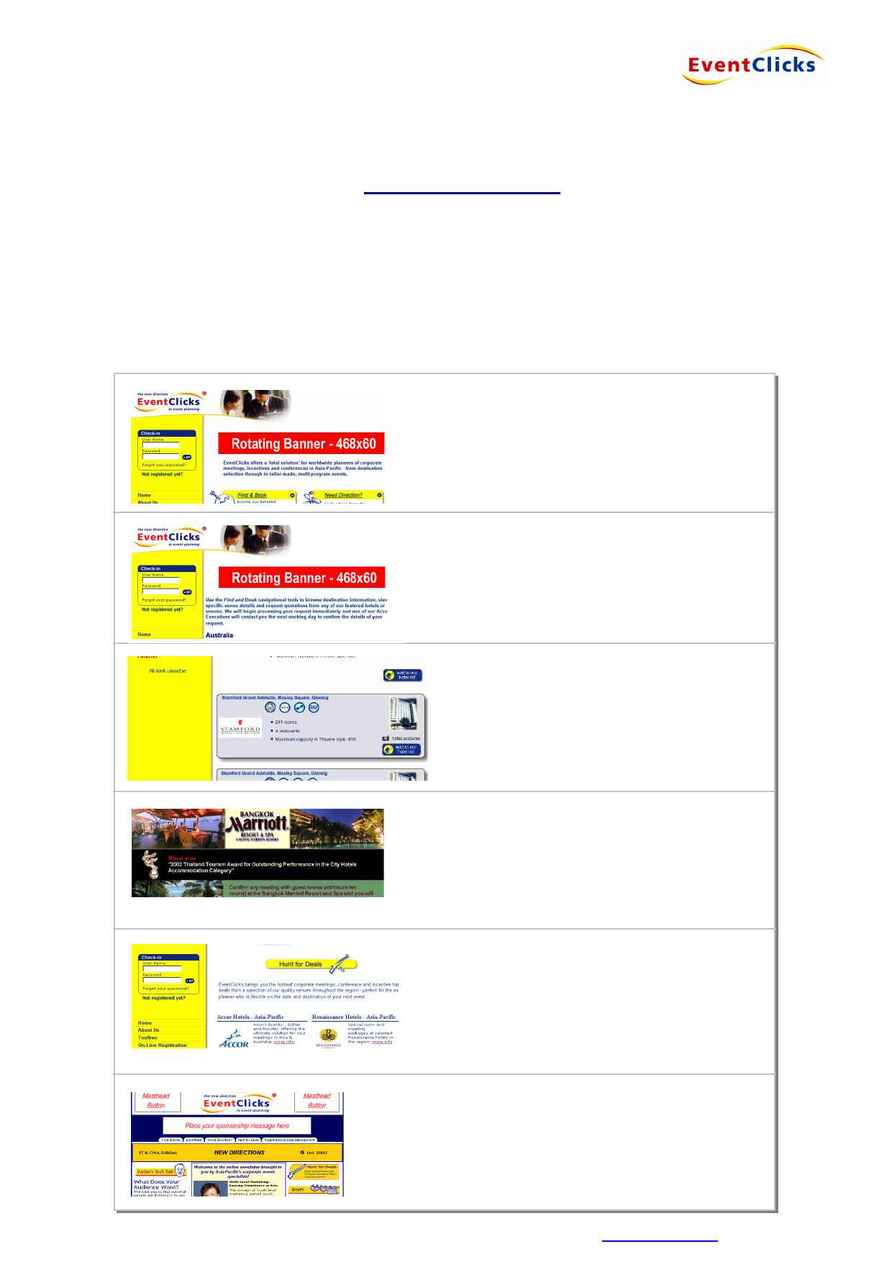 EventClicks Group Ltd T: +852 2911 7900 F: +852 2856 5391 E:
A member of Pacific World Ltd. Hong Kong
Designed specifically for marketers seeking to increase their MICE market-share, EventClicks offers a highly targeted, on-line
promotional channel offering a selection of options to perfectly compliment your print campaign. EventClicks' has a worldwide industry
database of over 13,000, a comprehensive listings website and, as one of the leading event companies in the region, is well-placed to
assist event hotels and suppliers, through recommendations and referrals to our multi-national clients.
And what's more, China hotels will receive additional FOC exposure on the Pacific World website, powered by EventClicks!
Special offer: 2006 rates will apply for activities confirmed during the launch period of EventClicks' brand new `new look' website and
newsletter which will be promoted via an eDM, partner link and media campaign.
HOME PAGE BANNER
2006:
2007: US$6,050
COUNTRY PAGE BANNER
2006:
2007:
DESTINATION PAGE BANNER
2006:
2007:
US$1,500
FEATURED HOTEL
2006:
2007:
EXCLUSIVE E-BROADCASTS
X 1
2006
: US$1,650
2007:
US$1,850
X 3
2006:
US$4,200
2007:
US$ 4,650
`HUNT FOR DEALS' SPECIAL OFFERS
rates available upon request
NEWSLETTER ADVERTISING
button:
2006
2007:
US$620
banner:
2006
US$825
2007:
US$950