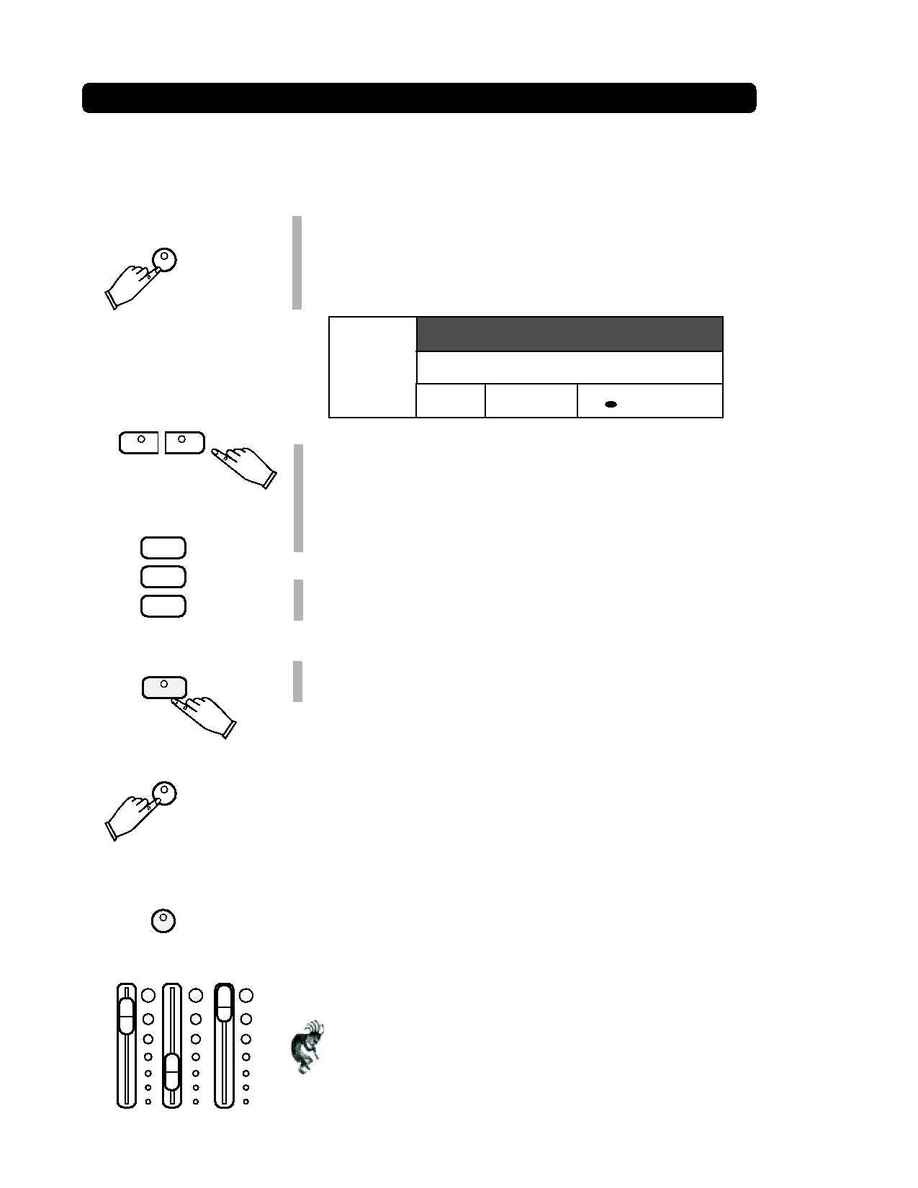 PLAYING DIFFERENT VOICES WITH THE LEFT AND RIGHT HANDS
SPLITING THE KEYBOARD INTO TWO SEPARATE VOICES
1.
Press the LOWER Button, it's LED indicator will turn on.
The LCD Display will appear as shown below.
Now when you play the piano keys with both hands you should hear
Acoustic Bass in your Left Hand and the previously selected instru-
ment voice, in your right hand.
2.
You may select a different Lower instrument voice in the same manner
as listed on the previous page. The procedure is shown again below.
With the lower button engaged press the Sound Group Button twice.
Use the SCREEN RIGHT, SCREEN LEFT buttons to page through the
voice groups (or you may simply use the Value Buttons + and - to
cycle through the available instrument voices).
3.
Use the CURSOR buttons to move the highlighted area to the voice you
would like to select.
4.
Press the ENTER button to engage your selected voice. The
display screen will show your newly selected voice.
TO DISENGAGE THE LOWER MODE
To disengage the LOWER mode simply press the LOWER Button, it's
LED indicator will turn off.
You may return to default or power up settings by simply pressing the
GRAND PIANO Button (red). The piano's settings will reset to the initial
full 88 note piano with the Grand Piano Voice Selected.
The Grand Piano Button is located to the right of the LCD display screen.
LOWER VOICE - Lower or split mode, divides the piano keyboard into two sections, Upper and Lower. In the
right hand section (Upper Section), the "main" or Upper and Layer voice (if engaged) will be heard. In
the Left Hand section a different instrument voice can be selected to sound when the keys are played.
Volume Note: It is recommended that you keep the Accompaniment
Volume control in the maximum position for normal operation of the
piano.