Suzuki quick start guide Page 6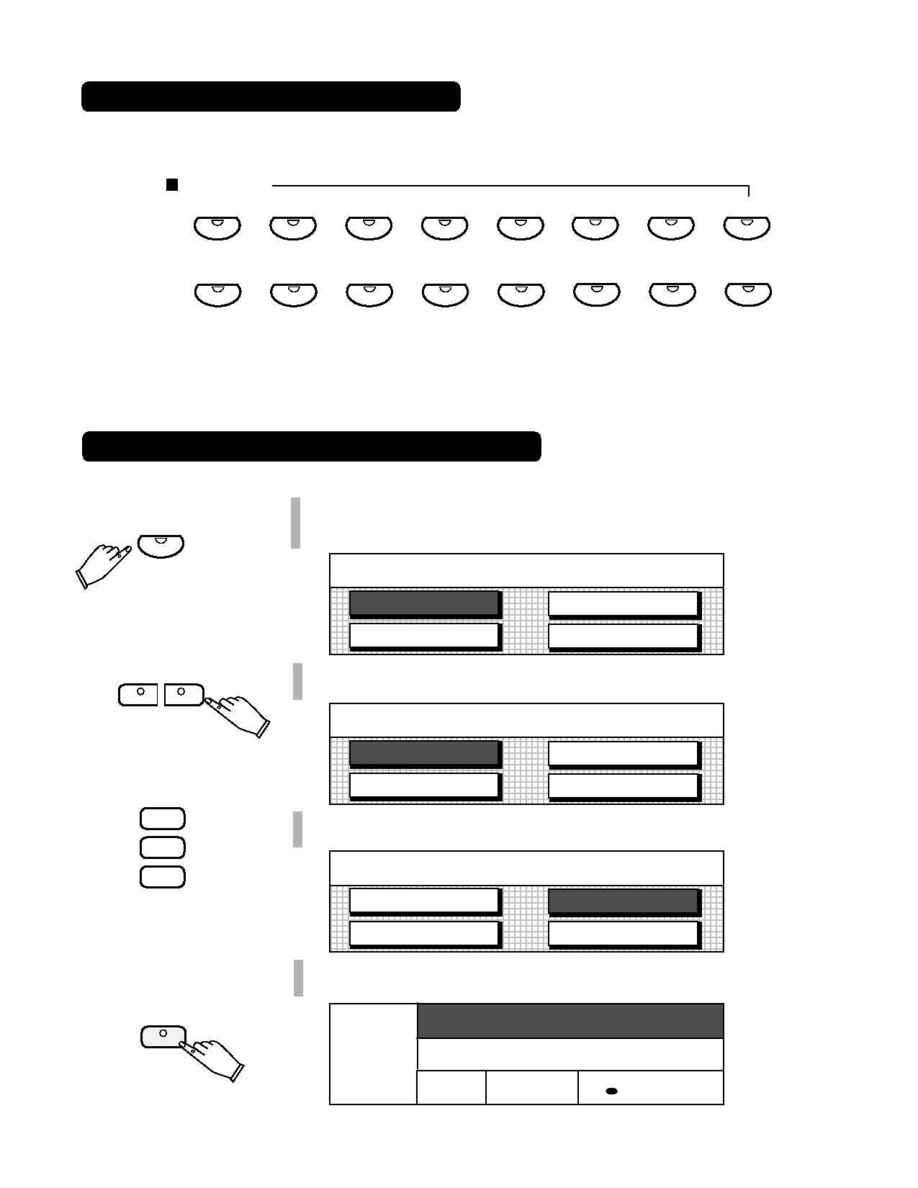 The GP-3 features a stunning variety of rich and realistic instrument voices.
We will explain how to select individual voices, combine two voices in a layer and split two voices between
your left and right hands.
PLAYING A VOICE
SELECTING ANY INSTRUMENT VOICE
QUICK SELECT - There are 16 voices that can be selected quickly by pressing
one of the 16 quick select SOUND GROUP buttons. Pressing one of
these buttons will immediately engage that selected instrument voice.
SELECTING ONE OF THE 128 VOICES
1.
Press a quick select SOUND GROUP button twice, to engage a voice
selection menu on the display screen. Each button is assigned eight
related voices in two groups of four.
2.
Use the SCREEN RIGHT, SCREEN LEFT buttons to page through the voice
groups.
3.
Use the CURSOR buttons to move the highlighted area to the voice you
would like to select.
4.
Press the ENTER button to engage your selected voice. The
display will revert to the performance screen showing the new voice.
123456789012345678901234567890121234567890123456789012345678901212345
123456789012345678901234567890121234567890123456789012345678901212345
123456789012345678901234567890121234567890123456789012345678901212345
123456789012345678901234567890121234567890123456789012345678901212345
123456789012345678901234567890121234567890123456789012345678901212345
123456789012345678901234567890121234567890123456789012345678901212345
123456789012345678901234567890121234567890123456789012345678901212345
123456789012345678901234567890121234567890123456789012345678901212345
123456789012345678901234567890121234567890123456789012345678901212345
123456789012345678901234567890121234567890123456789012345678901212345
123456789012345678901234567890121234567890123456789012345678901212345
123456789012345678901234567890121234567890123456789012345678901212345
123456789012345678901234567890121234567890123456789012345678901212345
123456789012345678901234567890121234567890123456789012345678901212345
123456789012345678901234567890121234567890123456789012345678901212345
123456789012345678901234567890121234567890123456789012345678901212345
123456789012345678901234567890121234567890123456789012345678901212345
123456789012345678901234567890121234567890123456789012345678901212345
123456789012345678901234567890121234567890123456789012345678901212345
123456789012345678901234567890121234567890123456789012345678901212345
123456789012345678901234567890121234567890123456789012345678901212345
123456789012345678901234567890121234567890123456789012345678901212345
123456789012345678901234567890121234567890123456789012345678901212345
123456789012345678901234567890121234567890123456789012345678901212345
123456789012345678901234567890121234567890123456789012345678901212345
123456789012345678901234567890121234567890123456789012345678901212345
123456789012345678901234567890121234567890123456789012345678901212345
123456789012345678901234567890121234567890123456789012345678901212345
123456789012345678901234567890121234567890123456789012345678901212345
123456789012345678901234567890121234567890123456789012345678901212345
123456789012345678901234567890121234567890123456789012345678901212345
123456789012345678901234567890121234567890123456789012345678901212345
123456789012345678901234567890121234567890123456789012345678901212345
123456789012345678901234567890121234567890123456789012345678901212345
123456789012345678901234567890121234567890123456789012345678901212345
123456789012345678901234567890121234567890123456789012345678901212345
123456789012345678901234567890121234567890123456789012345678901212345
123456789012345678901234567890121234567890123456789012345678901212345