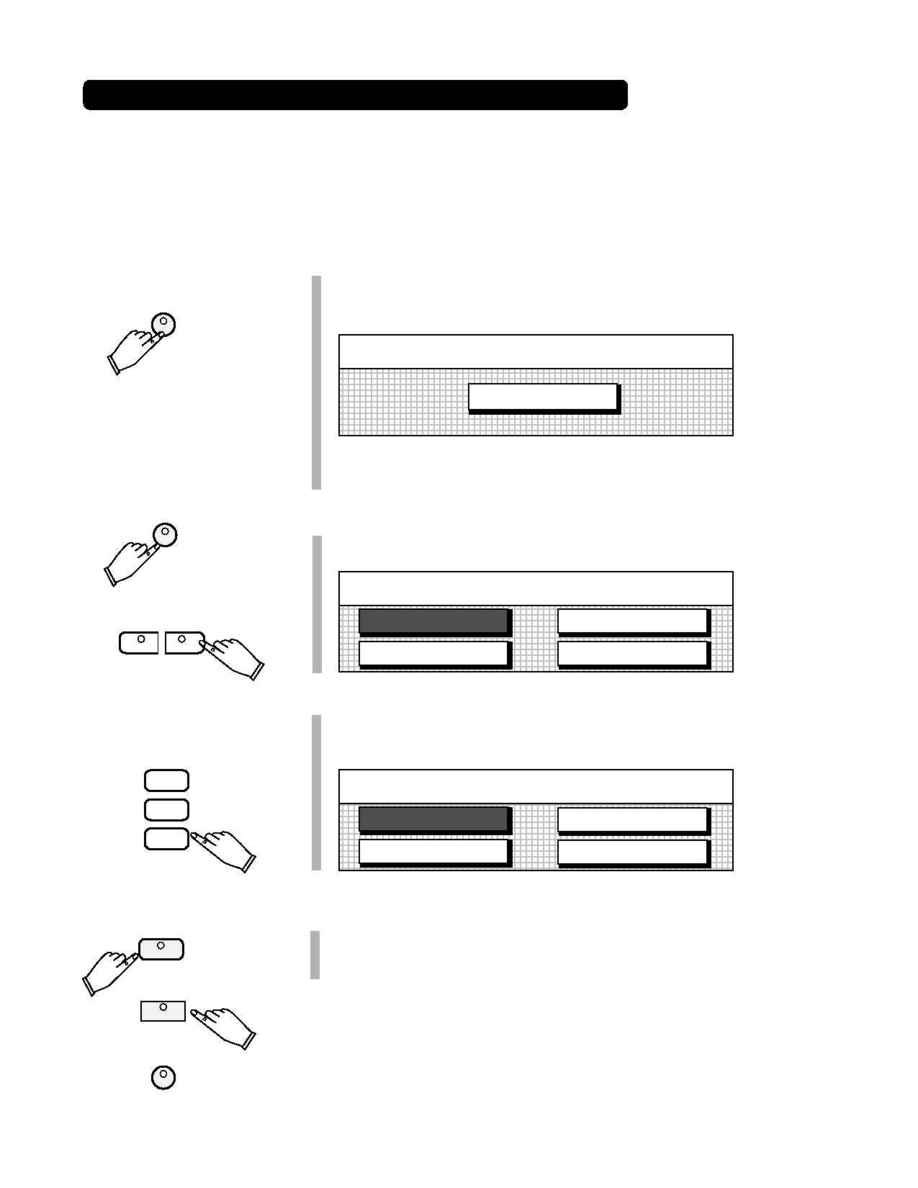 TO PLAY ALL THE DEMO SONGS
1.
Press the DEMO button, it's LED indicator will turn on.
The first demo song will playback instantly and the LCD Display will
show screen listed below:
The Demonstration Songs will continue to play sequentially until the
STOP / START Button is pressed or Demo Button is pressed again.
TO SELECT A SPECIFIC DEMO SONG TO PLAY
2.
If the Demo Button is not engaged press the DEMO button twice to
access the Demo Song Select menu.
3.
Use the SCREEN RIGHT or SCREEN LEFT buttons to access different
pages within the Demo Song Select menu. Then use the CURSOR buttons
to move the highlighted area to the song you wish to hear.
4.
Press the Enter button to confirm your selected song and it will begin
to play right away.
Press the Start / Stop Button to end the playing of the Demo Song.
To Exist the Demo Mode press the Demo Button so that its LED indica-
tor turns off.
The Suzuki GP-3 features thirteen different demonstration songs that showcase the rich, authentic sampled
voices and the acoustic realism of the piano's sound delivery system.
The LCD display will show the song name.
All the songs will play back repeatedly until the demonstration is stopped.
There are also over 50 songs in the musical Lesson section that can also be played back as Demonstration
Songs. Please see the Lesson section of the Owners Manual for more information.
1234567890123456789012345678901212345678901234567890123456789012123456
1234567890123456789012345678901212345678901234567890123456789012123456
1234567890123456789012345678901212345678901234567890123456789012123456
1234567890123456789012345678901212345678901234567890123456789012123456
1234567890123456789012345678901212345678901234567890123456789012123456
1234567890123456789012345678901212345678901234567890123456789012123456
1234567890123456789012345678901212345678901234567890123456789012123456
1234567890123456789012345678901212345678901234567890123456789012123456
1234567890123456789012345678901212345678901234567890123456789012123456
1234567890123456789012345678901212345678901234567890123456789012123456
1234567890123456789012345678901212345678901234567890123456789012123456
1234567890123456789012345678901212345678901234567890123456789012123456
1234567890123456789012345678901212345678901234567890123456789012123456
1234567890123456789012345678901212345678901234567890123456789012123456
1234567890123456789012345678901212345678901234567890123456789012123456
1234567890123456789012345678901212345678901234567890123456789012123456
1234567890123456789012345678901212345678901234567890123456789012123456
1234567890123456789012345678901212345678901234567890123456789012123456
1234567890123456789012345678901212345678901234567890123456789012123456
1234567890123456789012345678901212345678901234567890123456789012123456
1234567890123456789012345678901212345678901234567890123456789012123456
1234567890123456789012345678901212345678901234567890123456789012123456
1234567890123456789012345678901212345678901234567890123456789012123456
1234567890123456789012345678901212345678901234567890123456789012123456
1234567890123456789012345678901212345678901234567890123456789012123456
1234567890123456789012345678901212345678901234567890123456789012123456
1234567890123456789012345678901212345678901234567890123456789012123456
1234567890123456789012345678901212345678901234567890123456789012123456
1234567890123456789012345678901212345678901234567890123456789012123456
1234567890123456789012345678901212345678901234567890123456789012123456
1234567890123456789012345678901212345678901234567890123456789012123456
1234567890123456789012345678901212345678901234567890123456789012123456
1234567890123456789012345678901212345678901234567890123456789012123456
1234567890123456789012345678901212345678901234567890123456789012123456
1234567890123456789012345678901212345678901234567890123456789012123456
1234567890123456789012345678901212345678901234567890123456789012123456
1234567890123456789012345678901212345678901234567890123456789012123456
1234567890123456789012345678901212345678901234567890123456789012123456
PLAYING THE DEMO SONGS