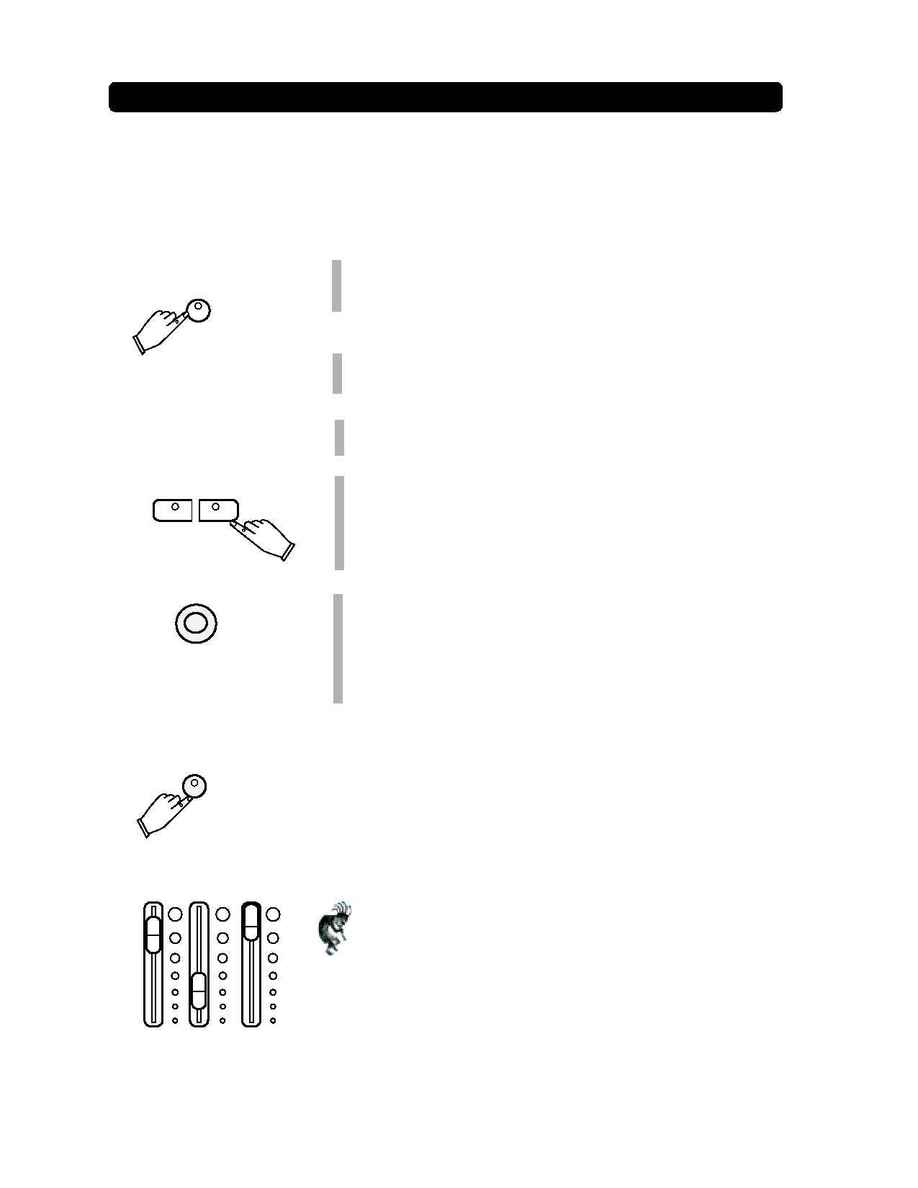 PLAYING AND SINGING WITH THE KARAOKE DISKS
SELECTING A KARAOKE SONG FROM THE DISK\
1.
Follow the instructions on pages 3 and 4 of this quick start guide.
These instructions will explain how to select a song and play it back
from the enclosed demonstration floppy disks.
PLUG IN THE ENCLOSED MICROPHONE
2
.
Plug in the enclosed Suzuki Microphone into the Mic Input Jack located
on the left hand side of the piano underneath the keybed.
3.
Adjust the Microphone Volume by the volume knob located on the left
hand side of the piano underneath the keybed.
4.
If you do not see the Lyrics after starting your selected song as stated on
pages 3 and 4 in this quick start guide, press the Screen Right Button.
This should display the Lyrics, if not please double check to make sure
that the disk that you inserted into the floppy disk drive was labelled as a
Karaoke Disk.
5.
If you would like to view the Karaoke Lyrics on your TV, plug in the
enclosed RCA to RCA cable. Plug one end of the cable into the GP-3's
Connection Jack panel marked video out (located to the left of the MIDI
Jacks), and the other end into your TV's Video In Jack.
If your TV does not have a Video In Jack then you may not be able to
display the Karaoke Lyrics on it's screen.
At any time, you may return to default or power up settings by simply
pressing the GRAND PIANO Button (red). The piano's settings will
reset to the initial full 88 note piano with the Grand Piano Voice
Selected.
The Grand Piano Button is located to the right of the LCD display
screen.
If you have any questions regarding this piano, please
call toll free to Suzuki Support at
1-800-854-1594.
8:00AM to 5:00PM PST - Monday - Friday.
Your GP-3 Mini-Grande Ensemble Piano includes Karaoke features which allow the entire family to join
in on the musical fun. The GP-3 package includes a Suzuki Microphone and demonstration karaoke
disks, while the control panel contains microphone volume and reverb controls. The Karaoke lyrics can be
viewed on the LCD display screen or you can use the included RCA style cable to connect your piano to your
TV to view the lyrics on your TV screen.
Volume Note: It is recommended that you keep the Accompaniment
Volume control in the maximum position for normal operation of the
piano. If there is data on channels 1 -4, the Accompaniment Volume
control may be able to control the volume level of those channels during
playback of your song file. This will depend on your Disk or Card
playback options settings.